One thousand people have now survived Ebola virus disease in what is the tenth outbreak in the Democratic Republic of the Congo. Ebola is a rare and severe and often fatal illness in humans that first appeared in Africa in 1976.
This outbreak, declared on 1 August 2018, started in North Kivu Province and then spread to parts of Ituri Province, with one case in South Kivu Province. Battling the epidemic has been a complex challenge in an environment of weak health infrastructure, political instability, ongoing conflict involving armed groups and community mistrust and reluctance.
The health community has persevered, evolving in the response and improving on prevention and protection, with greater community and health worker alertness on how to avoid infection and when to go for treatment. We now have vaccines under development that are protecting against Ebola and helping control its spread. We are developing survivor programmes that offer comprehensive care for one year. More than 900 of the 1000 survivors are enrolled.
The stories of the 1000 victories – a few of them presented here – give us hope that we are moving closer to stopping this outbreak. A common thread that comes through their experiences is the power of early treatment.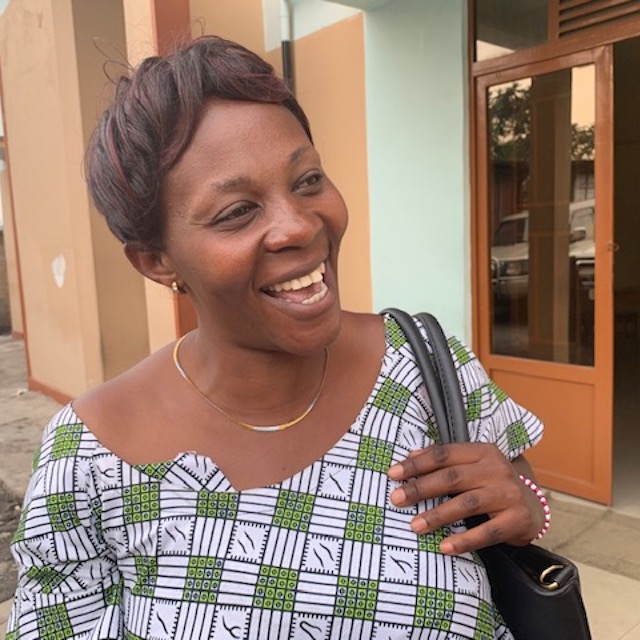 Nabintu Buhendwa Esperance, Goma
"I was not a better person than my late husband who died of Ebola. He died, but I survived. My child survived, too. It is difficult to explain – our time had not come. I now want to spend the rest of my life educating people to understand such dangerous diseases. I want to give support to organizations that fight Ebola. I have a difficult task of bringing up 10 children on my own. It will not be easy, but I am alive. I will do it."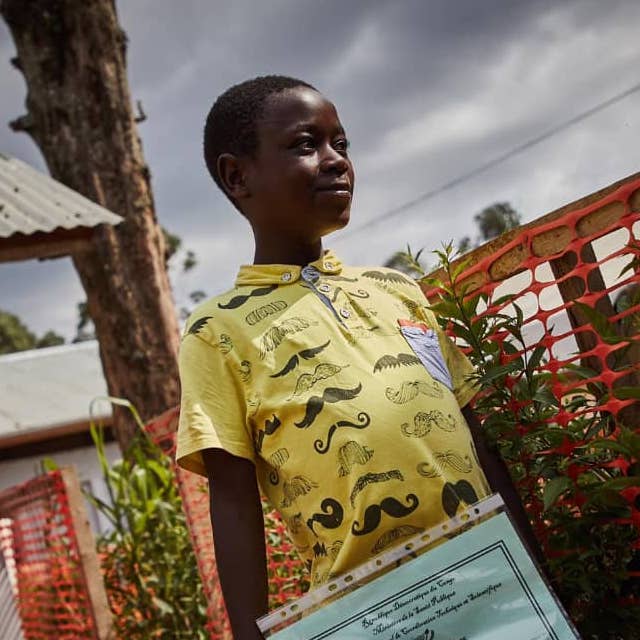 Isidore Mumbere, Butembo
Isidore is seen here at an Ebola treatment centre in Butembo, North Kivu, holding a certificate that declares him free of the virus. North Kivu is the epicentre of Congo's tenth Ebola epidemic, an outbreak declared a global health emergency by the World Health Organization.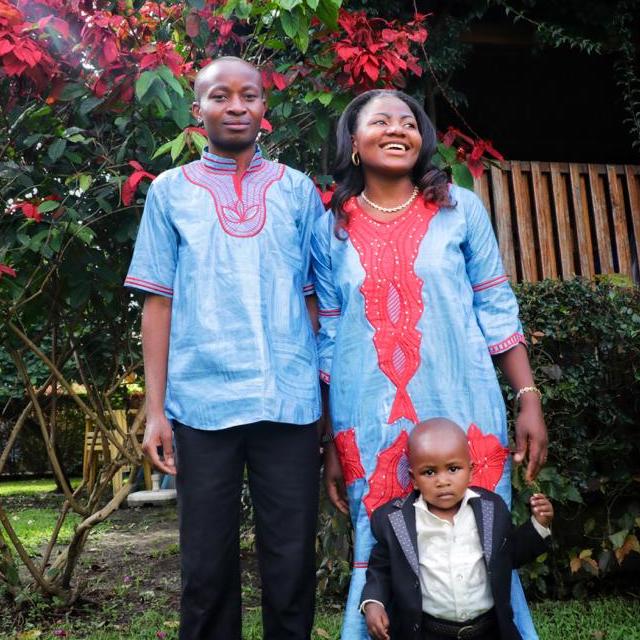 Esperance, Beni
"I fell sick with Ebola quickly after my husband. Our son was 3 months old. It is a miracle he didn't get Ebola. He was one of the first to be looked after in the nursery for Ebola patients. I am so thankful for this. Now, I work there looking after babies of women with Ebola."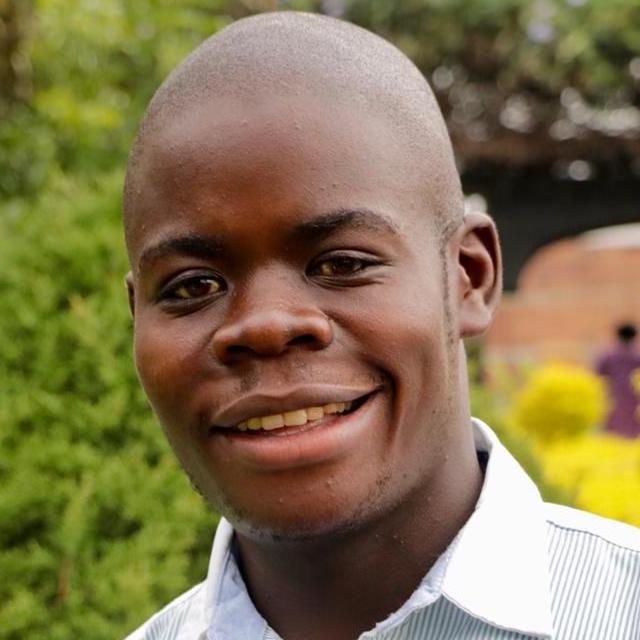 Merveil Agasa, Beni
"I caught Ebola from a close friend. His family thought it was poison, not Ebola. They resisted treatment and he died. Then the diagnostic team tested his body and confirmed it was Ebola. I was looked after in the Ebola treatment centre. After 22 days, I was cured. When I went home, it was amazing – it was pure joy. My family was so happy. Every day I remember my friend who never went home."
Feature stories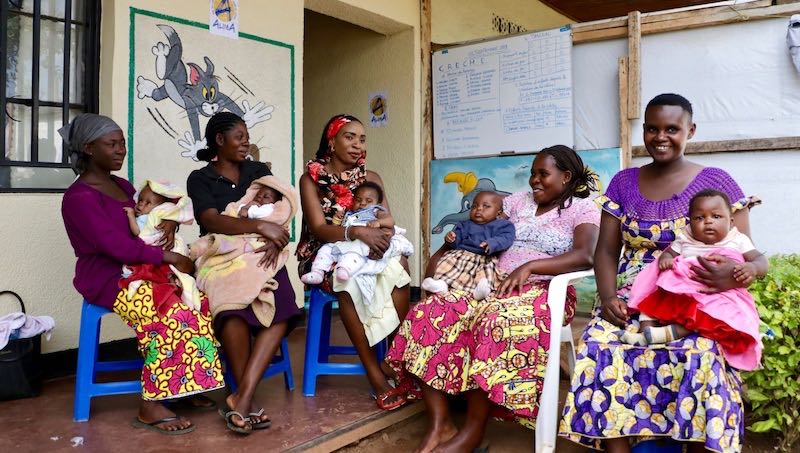 Mothers survive Ebola while pregnant against the odds in the Democratic Republic of the Congo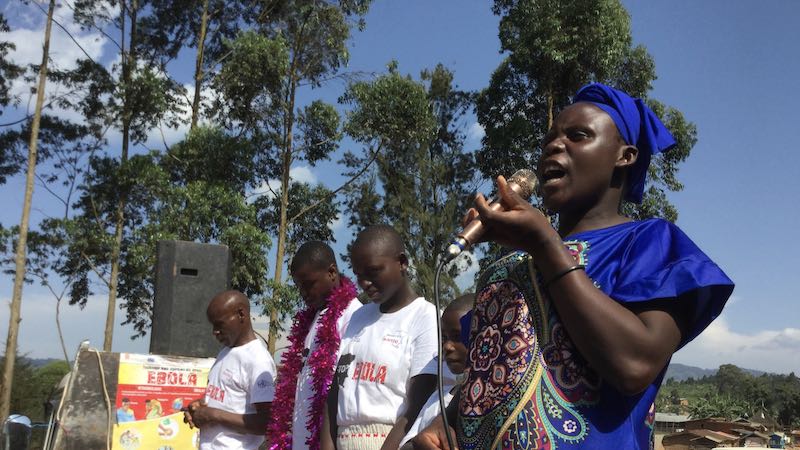 Dear parents and neighbours – A young mother tells her story of Ebola denial and then gratitude for treatment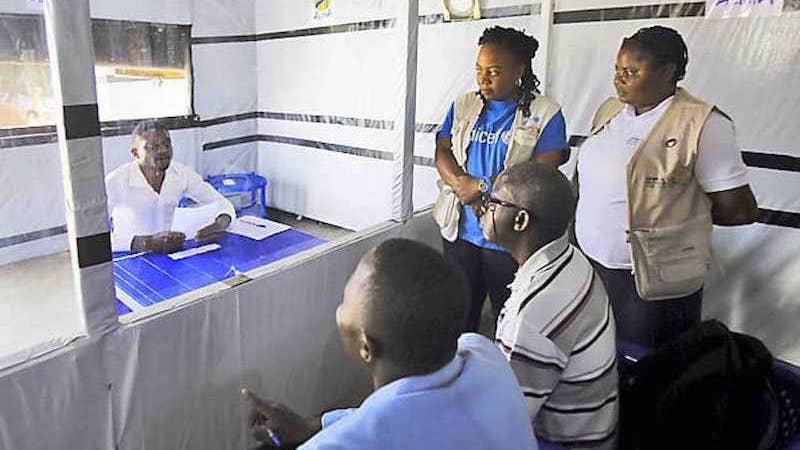 Surviving Ebola and passing final school exams while in treatment isolation: Now bring on the future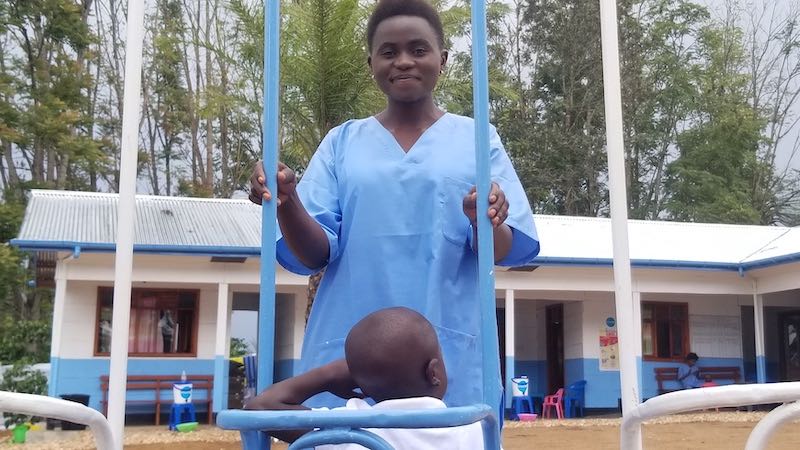 Giving back after surviving Ebola
Social media cards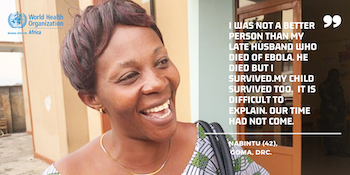 Nabintu, Goma, DRC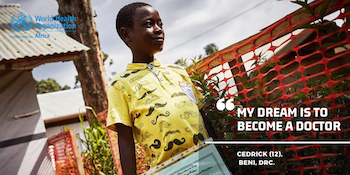 Cedrick, Beni, DRC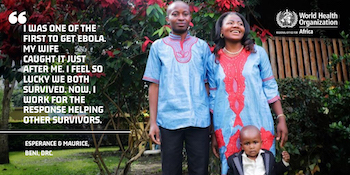 Esperance & Maurice, Beni, DRC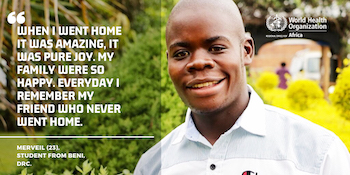 Merveil, Beni, DRC
Media statement by Dr Matshidiso Moeti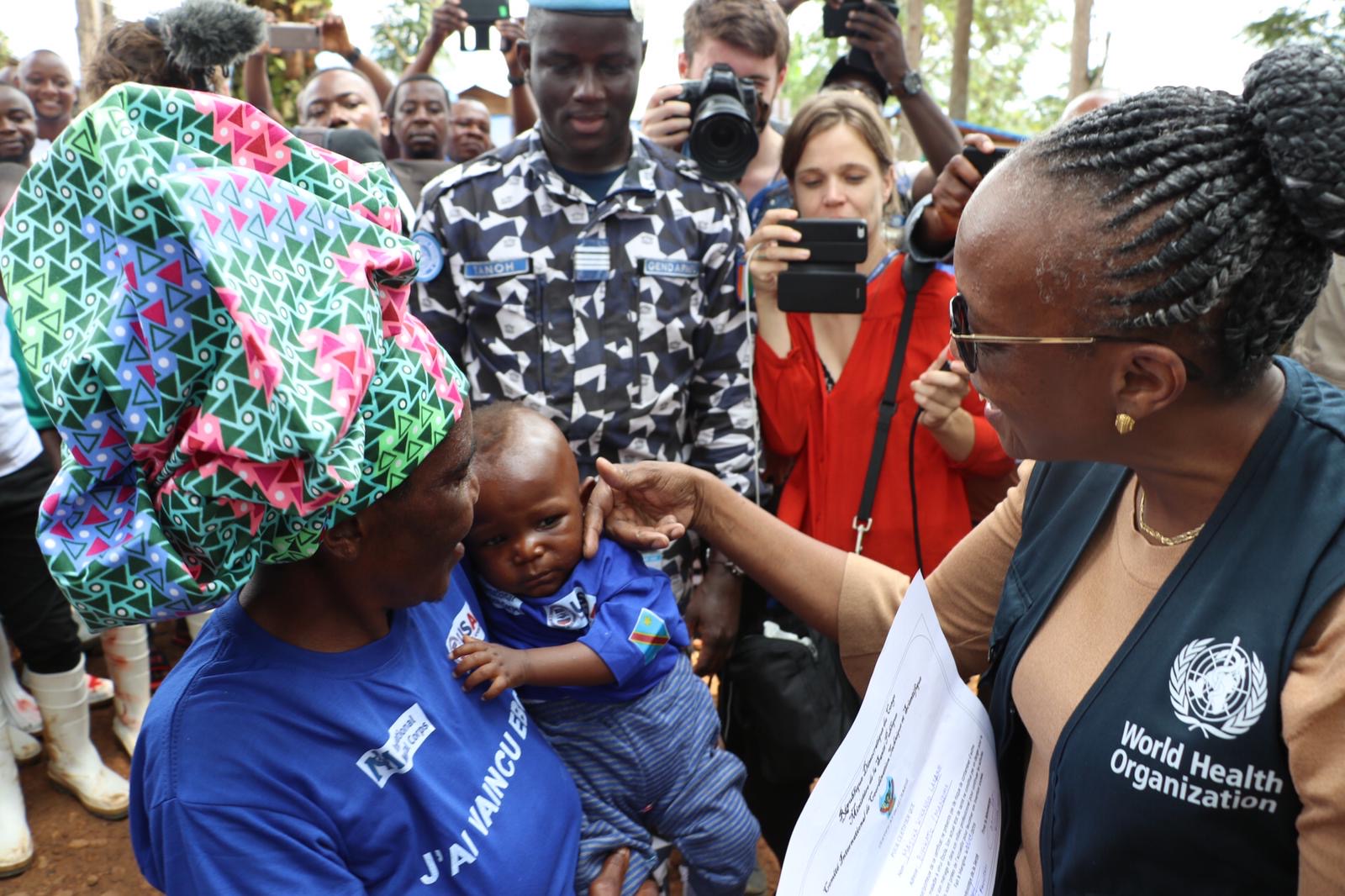 430 days and 1000 victories in the fight against Ebola in the Democratic Republic of the Congo
Today, amid our unrelenting work to end this tenth outbreak of Ebola virus disease in the Democratic Republic of the Congo, we celebrate a bright spot, which is actually 1000 bright spots – each person who has survived an Ebola infection.
Sixty-five days ago, we observed the one-year mark in the battle against the tenth outbreak of Ebola in the country, which started in the north-eastern province of North Kivu. This outbreak has become the second-worst experience with Ebola in recent history. Unfortunately, we are still counting the days, the cases and, most sadly of all, the deaths in this battle. Of the 1555 people admitted to Ebola treatment centres, 1000 of them, or nearly two thirds, have survived.
The stories of every one of the 1000 survivors are worth recounting. Each one helps us to understand this virus, along with what we are doing well in orienting health services to provide people-centred care and how we can improve. Some I have met and even danced with in jubilation that they are going home free of this disease.