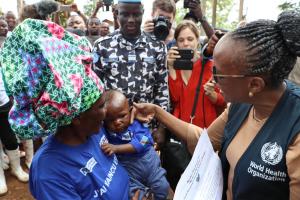 430 days and 1000 victories in the fight against Ebola in the Democratic Republic of the Congo
Statement from Dr Matshidiso Moeti
Today, amid our unrelenting work to end this tenth outbreak of Ebola virus disease in the Democratic Republic of the Congo, we celebrate a bright spot, which is actually 1000 bright spots – each person who has survived an Ebola infection.
Sixty-five days ago, we observed the one-year mark in the battle against the tenth outbreak of Ebola in the country, which started in the north-eastern province of North Kivu. This outbreak has become the second-worst experience with Ebola in recent history. Unfortunately, we are still counting the days, the cases and, most sadly of all, the deaths in this battle. Of the 1555 people admitted to Ebola treatment centres, 1000 of them, or nearly two thirds, have survived.
The stories of every one of the 1000 survivors are worth recounting. Each one helps us to understand this virus, along with what we are doing well in orienting health services to provide people-centred care and how we can improve. Some I have met and even danced with in jubilation that they are going home free of this disease.
As we strive to reach zero cases after 14 months of this outbreak, there is something special about 1000 people having beaten Ebola, as if all those zeros are somehow a sign that the balance is shifting.
This is not to say that while celebrating the 1000 bright spots we lose sight of all the women, men, girls and boys who have died, now numbering 2137, including 65 health workers.
We know that Ebola is a particularly deadly disease. At one time, receiving an Ebola diagnosis was akin to a death sentence. However, with investments in better nursing care and wider availability of hydration services, our ability to treat people has improved. With innovations in research and development, we are now using two medications that have been shown effective in treating patients, and are contributing to increasing survival rates. In the West Africa Ebola epidemic in 2014–2016, around 50% of people seeking care in health facilities died. In the Democratic Republic of the Congo, it is now 34%.
We have also learned a great deal about surviving Ebola, which is helping us prevent more deaths as well as new cases. We know that beginning treatment as quickly as possible makes a monumental difference in survival rates. Our findings from the current outbreak show that, on average, once a person develops symptoms it takes between four and five days for them to reach a health facility. If people seek care in health facilities earlier, more lives will be saved.
Once discharged, our work with survivors does not end. Since the West Africa epidemic, we have developed a survivor programme so that we can follow the health care and well-being of each person. As our knowledge of Ebola's long-lasting impact becomes sharper, we will expand the breadth of that programme so that we respond to each survivor's health needs.
The battle against Ebola continues and the disease will be defeated. Although, we have more to learn and more to do. With every case we catch and cure quickly, we stop other potential cases from ever happening and we edge closer to ending this outbreak.
Our task remains clear. We must work harder to build trust and to spread the message: surviving Ebola is possible, and we are here to make that happen.
In the hopes that more people hear this message, we take today to celebrate as loudly as possible with thousands of hands clapping for the 1000 victories to date and those still to come.