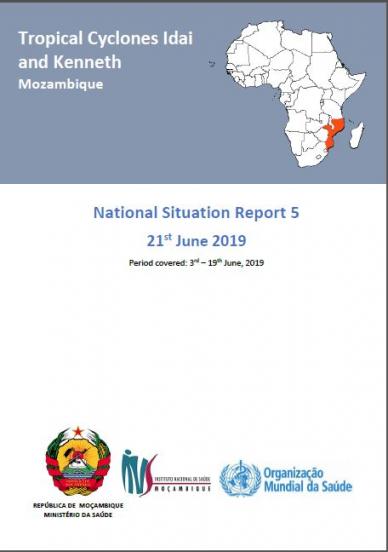 Tropical Cyclones Idai and Kenneth Mozambique - National Situation Report 5
Key Highlights
Cyclone Idai
As of 17th June, there were 3 temporary accommodation centres remaining in Sofala1.
Health partners including WHO, UNICEF, UNFPA, FHI360 and CUAMM, Save the Children, Health Alliance International, Cruz Vermelha, Medicos del Mundo and Pathfinder in collaboration with DPS (Provincial Health Directorate) are working on health facility rehabilitation and extension of health services to resettlement sites in the four districts most affected by cyclone Idai.
Health services provision remains challenging in hard to reach areas with limited access to essential care at the resettlement sites. There is an urgent need for construction of health facilities in districts that already had few health facilities and are now hosting resettled families.
Between week 23 and 24 there were no new cholera cases reported with cumulative cases remaining the same, up to 6,768 and 8 deaths (case fatality rate: 0,12%)
Number of weekly malaria cases reported in districts affected by Idai Cyclone are declining, with cumulative 61,480 cases registered as of 19th June, and most cases being reported in Nhamatanda (26,710).
Cyclone Kenneth
As of 9th May, 19 health facilities have been either partially (15) or totally (4) destroyed.4
An outbreak of cholera was confirmed on 1st May 2019 in Pemba and Mecúfi and on 8 May in Metuge districts of Cabo Delgado Province. From 1st May to 19th June 2019, 267 cumulative cases and no deaths were reported.
As of 19th June, 23,903 malaria cases have been reported in districts affected by Kenneth Cyclone in Cabo Delgado, with Metuge and Mecúfi being the most affected districts.