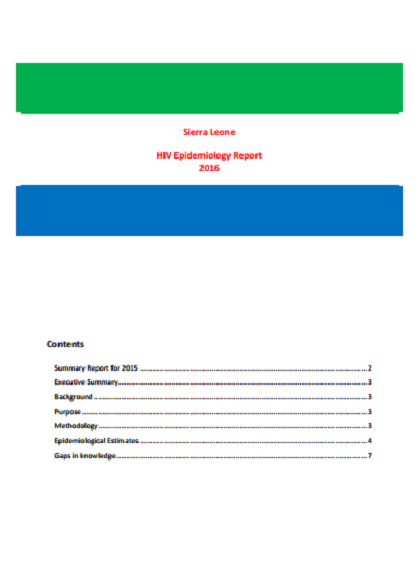 HIV Epidemiological Report (2016)
This is a publication of the Sierra Leone Ministry of Health and Sanitation.

This document summarizes the epidemiological findings from the programmatic data collected for 2015 and the HIV estimations produced for the 2016 Global AIDS Response Progress Report.
Since the first case of AIDS reported in Sierra Leone in 1987, the government has mde great efforts to ensure adequate programmes and policies are in place to address the epidemic within the country. Part of these efforts includes routine monitoring and evaluation of these programs to ensure their continued effectiveness. Although programmatic data is gathered every year, the most recent behavioural and epidemiological study related to HIV and AIDS is from the 2013 Demographic Health Survey , the 2014 ANC Sentinel Surveillance report and the 2013 Bio-Behavioural Sentinel Survey. This information provides valuable insight into the state of the epidemic and the actions that must be taken in order to "Get to Zero" in a post-Ebola era in Sierra Leone.