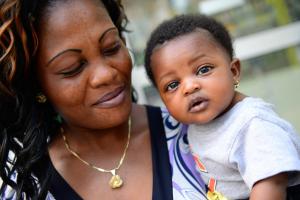 WHO report finds poor delivery of services threatens gains made in health in Africa
DAKAR/BRAZZAVILLE, 29 August 2018 - A new report by the World Health Organization's (WHO) Regional Office for Africa shows a high improvement in health in the region. However, this achievement can only be sustained and expanded if countries significantly improve the way they deliver essential health services to the people who need them most.
The State of Health in Africa report provides a comprehensive overview of the state of health in the region, the related services people need, the performance of their health systems and analyzes what impacts these have on health of people in the region.
The report was launched today (29 August) by Dr Matshidiso Moeti, WHO's Regional Director for Africa in Dakar at a side event of the 68th session of the WHO Regional Committee for Africa.
Snapshot of the state of health in the African region
There has been a significant improvement in the state of health in the region with healthy life expectancy - time spent in full health - in the region increasing from 50.9 years to 53.8 between 2012 and 2015 - the most marked increase of any region in the world.
What is making Africans sick is changing. The top killers are still lower respiratory infections, HIV and diarrhoeal disease and countries have routinely focused on preventing and treating this trio, often through specialized programmes. The payoff has been significant declines in deaths due to these diseases. There has been a 50% reduction in the burden of disease caused by what have been the top 10 killers since 2000 and death rates have dropped from 87.7 to 51.1 deaths per 100,000 persons between 2000 and 2015.
This trend is continuing, with emerging data on healthy life expectancy showing a continued improvement.
"I'm proud that Africans are now living longer and healthier lives," said Dr Moeti. "Nearly three years of extra health is a gift that makes us all proud. Of course we hope that these gains will continue and the region will reach global standards. "
However, Universal Health Coverage requires all conditions affecting a population, not only priority conditions be improved. Chronic diseases like heart disease and cancer are now claiming more lives with a person aged 30 to 70 in the region having a one in five chance of dying from a noncommunicable disease (NCDs).
Countries are specifically failing to provide essential services to two critical age groups – adolescents and the elderly. As the population ages in Africa, the elderly need senior care. However, almost a third of respondents surveyed as part of the report highlighted the absence of any services for the elderly in their countries.
"Health services must keep up with the evolving health trends in the region," said Dr Moeti. "In the past we focused on specific diseases as these were causing a disproportionately high number of deaths. We have been highly successful at stopping these threats and people's health is now being challenged by a broad range of conditions. We need to develop a new and more holistic approach to health."
Inadequate performance of health systems
The report finds that the state of health is most related to the performance of health systems - the better the performance, the higher the sustainable state of health. However, health systems - the people, institutions and resources needed to deliver health-related services - are only performing at 49% of their potential capacity.
Performance in the region - an integrated measure of the country's ability to improve access to services, quality of care, community demand for services and resilience to outbreaks - is low across all these dimensions, but particularly in the areas of ensuring access to services and resilience to outbreaks. Health systems are still not providing people with the range of services they need, and they are not able to withstand shocks when they are challenged by outbreaks.
More acute investment in the health workforce, and having health facilities close to patients are critical to determining good access, but on average there are only 2 physicians and 15.5 hospital beds per 10 000 people.
Spending on health is low in the region and increased investments are important, but it is not only how much funds are spent, but what they are spent on. An examination of the link between health expenditures and well-being showed a weak association between funding and healthy life. Thirteen countries spent less than US$ 300 but had comparable healthy life expectancies to some countries spending more than US$ 500. Additionally, a number of countries are spending above US$ 500 but their level of health is similar to countries spending under this amount. This highlights the importance of focusing on how countries invest their health funds.
Currently on average 39% of health budgets are spent on medical products, while expenditure on the health workforce (14%) and infrastructure (7%) is low. An analysis of spending patterns suggests that countries with good performing health systems invest up to 40% on the health workforce and 33% on infrastructure.
Health Development Goals
Countries have committed to ensuring healthy lives and promoting wellbeing for all at all ages as well as achieving a range of health targets by 2030. The report suggests countries place more focus on the performance of their systems, to achieve cross cutting and sustainable improvements in universal health coverage and other targets influencing health across the sustainable development goals (SDGs).
The report also notes specific countries where good practices can be explored across different areas of health, including Algeria (good coverage of available health services), Cabo Verde (good community demand for essential services, and resilience of health systems); Kenya (good range of available essential services); Mauritius (good access to services); Namibia (good financial risk protection); Seychelles (good coverage of health related services) and South Africa (good health security).
Specific recommendations for each of the 47 countries of the region are made in the report and countries with good practices are identified so that others can learn lessons across the different dimensions of universal health coverage and other SDG health targets.