Kampala, 28 November 2018 - Following media stories on the alleged suspected Ebola death in Kabarole District, the Ministry of Health together with the World Health Organization (WHO) wish to update the public as follows:
On 26th November 2018, an alert case was received at Fort Portal Regional Referral Hospital from Bundibugyo district.
The 38year old male alert case is one of the many alert cases received in different health facilities as a result of the heightened surveillance along all border districts.
Blood samples were taken off the suspect and sent to Uganda Virus Research Institute (UVRI) for further analysis.
Results from the UVRI indicate that the patient was negative by PCR for Ebola and other Viral Hemorrhagic Fevers. The districts are aware of these results.
Any persons that present with any known symptoms of Ebola is taken on as an alert case until thorough lab investigations are done.
Currently, a number of Ebola Virus Disease (EVD) preparatory activities are going on across all high-risk districts and these include; coordination of activities; health facility and community-based EVD surveillance, collection and testing of blood samples from alert cases, capacity building for Infection, Prevention and Control, clinical management, psycho-social care and for safe and dignified burials. Risk communication, community engagement and cross-border surveillance are also going on in many districts.
In the same vein, a total of 1,316 front line and healthcare workers in three (3) districts have been vaccinated against EVD to protect this cadre of people against the deadly disease.
The Ministry of Health together with the WHO country office wish to reiterate that there is no confirmed case of Ebola Virus Disease in Uganda, and are working tirelessly to keep the country safe from the deadly disease.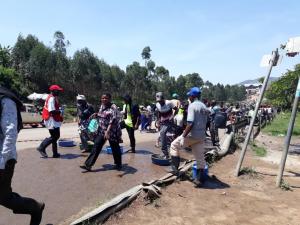 Click image to enlarge
For Additional Information or to Request Interviews, Please contact:
Health Promotion Advisor
Tel. : +256 414 335505
Cell: +256 772 507906
Email: sensasib [at] who.int
Public Information Officer
Tel. : +256 414 335569
Cell: +256 786 497073
Email: mwebembezie [at] who.int
Public Relations Officer
Ministry of Health
Tel: +256 77 922 0588
Email: emmabyoona [at] gmail.com