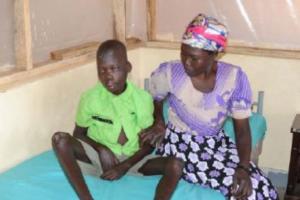 Hope as nodding syndrome screening and treatment centres are opened in northern Uganda
Grace Adyero, like many other caretakers in the room hardly says a word or smiles. She only stares blankly at the child lying on the bed with grief written all over her face. Her demeanor and facial expression seem to inaudibly ask "why me?"
"We have been here for two days and now he has rested a bit. It must be the medicine and food they have given him. He was worse at home and we had given up on him ‐ just waiting for him to die one day," she tells me through an interpreter.
Other caretakers in this new Nodding Syndrome (NS) Screening and Treatment Center in Kitigum hospital have almost a similar story. "We kept him tethered to a pole at home so that he does not wander off, fall and hurt himself. These wounds you see are from the many falls he has had. One day he almost fell into my cooking pot. That's when we decided to start tying him up, Margret Acan, mother of nine year old Tom tells me.
And how is Tom since you came here three days ago, I ask. "The seizures have been very few, but he does not eat. The medicine has helped him, but I wish they can give me something to make him eat. These nurses have helped us. There is nothing else I can do for him now only the nurses here can help me" Margret Acan says with teary eyes.
Such is the hope pinned on this treatment center that within only 11 days of its opening it received 191 patients. Of these, 115 met the standard case definition of NS and were immediately started on treatment. Other screening and treatment centers have been opened in Pader and Lamwo districts. As of 23rd March these two centers had received 597 and 7 affected children respectively. Of these, 414 and 5 cases respectively met the standard case definition of NS.
Nodding syndrome is characterized by head nodding episodes that consist of repetitive dropping forward of the head. The nodding is sometimes precipitated by food or cold weather and is often accompanied by other seizures like convulsions or staring spells. During the episodes, the child stops feeding and appears non‐responsive, with or without loss of consciousness. There is deterioration of brain function in some of the victims, and malnutrition with growth retardation in the majority of cases.
Fortunately patients can be treated with anti‐epileptic drugs such as Sodium Valproate that has been particularly effective in the control of seizures. Subsequently, patients are given nutrition supplements and food that are now available in the three treatment centers courtesy of the Prime Minister's Office. Added to these are rehabilitation services intended to restore patient's activities of daily living such as self feeding, bathing and brushing. Finally, is the psychosocial support that is yet to kick off but targeted at patients and their families aimed at restoring social acceptability in the family and communities.
In a nutshell, that is the intent and purpose of the three NS Screening and Treatment Centers that were opened last week in the three most affected districts. Although the centers are now functional, health workers however admit that patients so far seen are too few given the estimated magnitude of the disease in the community.
They attribute this "low turn up" to long distances parents and caretakers have to traverse to reach the centers. For instance, Abamu village in Lamwo district which is most affected is about 40km from the nearest treatment centre at Palabek Kal. This is a long journey that many parents are notable to undertake given that most of the sick children cannot walk and transportation means are scarce in the area.
The Ministry of health as responded to this by purchasing four vehicles and attached them to each of the centers to specifically transport children from the villages for treatment. "There shouldn't be any excuses as to why children don't get treatment now. Let's all play our part, let's get the children to the treatment centers," declared Dr Asuman Lukwago, the Permanent Secretary in the Ministry of health.
Complementing these efforts is training of health workers in the proper management and treatments of NS cases. So far, 99 health workers have been trained in case management with support from Word Health Organization (WHO) and Center for Disease Control (CDC). These trained health workers are expected to cascade the training to lower health units in their districts. "Every quarter we will come to monitor the performance of these health workers. The medicines and food are available, what we need is close supervision especially by district authorities," said Dr Ruth Aceng, the Director General of Health Services in the Ministry of Health.
Presently, WHO and CDC scientists are studying the link that may exist between NS and onchocerciasis. This is mainly because about 93% of all NS cases are from onchocerciasis endemic areas creating a strong hypothesis for the association as the potential cause.
Indeed, it is because of this strong association that WHO is advising the government to undertake mass treatment of onchocerciasis with ivermectin throughout the affected districts. "We are going to support these efforts. However, our response to NS should not take our focus from other problems such as malaria and HIV/AIDS that continue to kill more people than NS" said Dr Joaquim Saweka WHO Representative to Uganda. He recommended health systems strengthening as the best solution not only to fight NS but also other health problems in the country.
There are many aspects of NS that need study and support. Research is one fundamental area to which WHO and CDC are committing considerable time and resources. " We need to know exactly what causes NS; what are the best treatment options; what does NS eventually result into; and what are its social impact in the affected communities" noted Dr Saweka.
Hopefully, these and many more questions will form the core contents of an International Workshop on NS that the Government of Uganda, WHO, CDC and other partners are organizing to be held in May or June this year.
For now, Grace Adyelo and many more in her situation can only stare blankly at her son. It is clear all she wants is effective treatment for her child and to take him home as soon as possible.
For more information please contact
Benjamin Sensasi, Health Promotion Adviser, WHO Country Office
Tel: 256-41-334400
Email: sensasib [at] ug.afro.who.int