Brazzaville, Congo, March 08 2019 - The bilateral ties between World Health Organization (WHO) Secretariat in the African Region and Republic of Congo have been given a significant boost. This follows a 2-day meeting in Brazzaville, Congo between senior officials from both WHO Regional office for Africa and the Congolese Government.
The Congolese delegation was led by H.E. Jean-Claude Gakosso, Minister of Foreign Affairs, Cooperation and Congolese Abroad and World Health Organization Regional Office for Africa was led by Dr. Matshidiso Moeti, WHO Regional Director for Africa.
At the meeting, both parties agreed on a new cooperation agreement that reflects their shared commitment to strengthen ties to meet the health development challenges facing Congo in particular and Africa in general.
In her remarks, Dr Moeti said: "I am pleased that this meeting has enabled us to clarify essential elements of our cooperation. I take this opportunity to reiterate WHO's commitment to support Congo in its efforts towards universal health coverage".
The relations between WHO and Congo dates back to 1960s when a Headquarters Agreement was signed. The agreement constitutes the instruments that guarantee the normal relations between WHO and Congo and it calls for compliance from all sides. It is in this spirit of facilitating the effective implementation of the Headquarters Agreement that a first Memorandum of Understanding establishing a Joint Commission for Cooperation between the Government of the Republic of the Congo and the World Health Organization Regional Office for Africa was signed on 21 September 1993.
After more than two decades, there is the need to take stock of the work accomplished by the Commission and make it relevant in the light of developments in the national environment and the global health agenda. The two Parties also agreed to hold mid-term meetings to ensure that the implementation of the commitments made is monitored.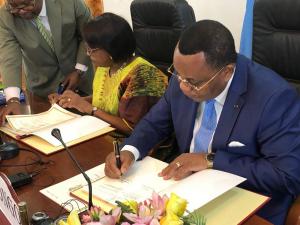 Click image to enlarge
For Additional Information or to Request Interviews, Please contact:
Communications and marketing officer
Tel: + 242 06 520 6565
Email: boakyeagyemangc [at] who.int
Communications Manager
WHO Regional Office for Africa
Cell: +242 06 508 1009
Email: okas [at] who.int