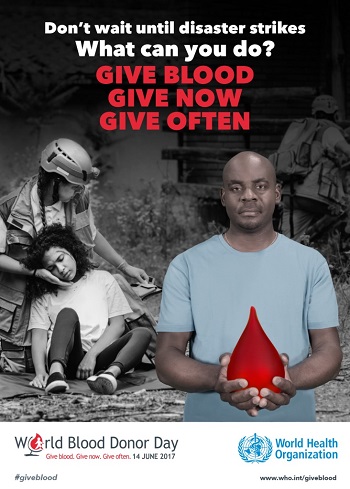 World Blood Donor Day, 14 June 2017
Every year, on 14 June, countries around the world celebrate World Blood Donor Day (WBDD). The event serves to raise awareness of the need for safe blood and blood products and to thank blood donors for their life-saving gifts of blood.
Blood is an important resource, both for planned treatments and urgent interventions. It can help patients suffering from life-threatening conditions live longer and with a higher quality of life, and supports complex medical and surgical procedures. Blood is also vital for treating the wounded during emergencies of all kinds (natural disasters, accidents, armed conflicts, etc.) and has an essential, life-saving role in maternal and perinatal care.
This year's campaign will focus on blood donation in emergencies. In crisis or emergency situation, the natural human response is "What can I do? How can I help?". Therefore, the slogan for the 2017 campaign is: What can you do?, with the secondary message: Give blood. Give now. Give often.
The campaign underlines the role every single person can play in helping others in emergency situations, by giving the valuable gift of blood. It also focuses on the fact that it is important to give blood regularly, so that the blood stock is sufficient before an emergency arises.
Related links:
Message of the Regional Director, Dr Matshidiso Moeti, on the occasion of World Blood Donor Day, 14 June 2017
More about World Blood Donor Day
---
General Information
Q&A: Why should I donate blood?