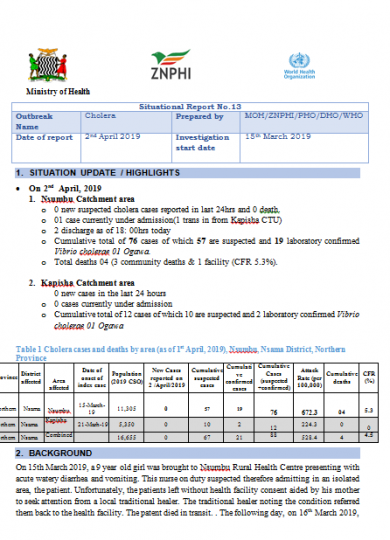 Zambia Cholera Situation Report - 2 April 2019
On 15th March 2019, a 9 year old girl was brought to Nsumbu Rural Health Centre presenting with acute watery diarrhea and vomiting. This nurse on duty suspected therefore admitting in an isolated area, the patient. Unfortunately, the patients left without health facility consent aided by his mother to seek attention from a local traditional healer. The traditional healer noting the condition referred them back to the health facility. The patent died in transit. . The following day, on 16th March 2019, three (3) cases from the same household to the deceased and six (6) other cases (2 from the neighboring village to the deceased while 4 came from a village 4km away but had attended the funeral) came to the clinic presenting with watery diarrhea and vomiting. These 10 cases were admitted in isolation at the clinic of which 2 of them tested positive by RDT for vibrio cholerae.
Laboratory results indicate that Vibrio Cholerae 01 Ogawa was isolated from all the 12 samples (4 stool and 8 rectal swabs) subjected to culture and sensitivity at Mporokoso District Hospital laboratory Prior to the outbreak, the area had experienced heavy rainfall causing overflow of pit latrines that led to contamination of surface water. Sources for drinking water in Nsumbu include streams, springs, scoop holes, wells or boreholes The Kapisha RHP cholera outbreak 35km away from Nsumbu RHC was reported on 21st March 2019. Vibrio cholerae 01 Ogawa was isolated from 2 of the 3 stool samples taken for culture. This outbreak in Kapisha has no epidemiological link to the Nsumbu outbreak. However, the risk factors (contaminated drinking water sources, low sanitation coverage and poor personal hygiene practices) are similar.