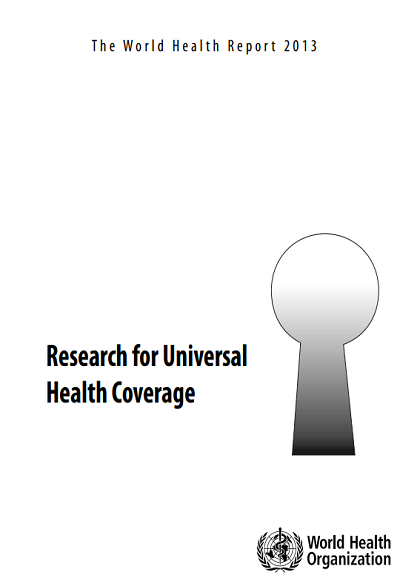 World health report 2013: Research for universal health coverage
Publication details
Number of pages: 168
Publication date: August 2013
Languages: English, Arabic, Chinese, French, Portuguese, Spanish, Russian
ISBN: 978 92 4 156459 5
15 August 2013 -- Everyone should have access to the health services they need without being forced into poverty when paying for them. The World health report 2013 "Research for universal health coverage" argues that universal health coverage – with full access to high-quality services for prevention, treatment and financial risk protection – cannot be achieved without the evidence provided by scientific research.
Overview
Universal health coverage ensures everyone has access to the health services they need without suffering financial hardship as a result. In December 2012, a UN resolution was passed encouraging governments to move towards providing universal access to affordable and quality health care services. As countries move towards it, common challenges are emerging -- challenges to which research can help provide answers.
The World health report: research for universal health coverage focuses on the importance of research in advancing progress towards universal health coverage. In addition, it identifies the benefits of increased investment in health research by low- and middle-income countries using case studies from around the world, and proposes ways to further strengthen this type of research.
---