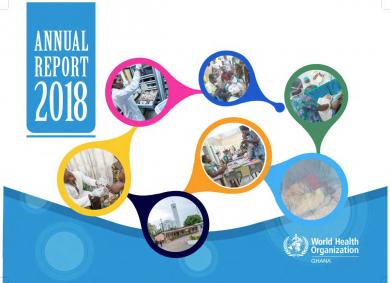 WHO Ghana 2018 Annual Report
The focus of the World Health Organization (WHO's) support during the year under review was on priority areas for both Government and WHO including: improved access to quality essential health services, attainment of Universal Health Coverage (UHC) through strengthening of health systems and Primary Health Care, addressing public health emergencies and promoting healthier populations through multisector actions and approaches.
Similar to preceding years, the office continued to play an active role in existing partnerships and coordination mechanisms including Development Partners (DPs) Group, UN Sustainable Development Partnership (UNSDP) Thematic Working Groups, and the Health Sector Working Group among others
In the reporting year, the main achievements registered by WCO in support of the country's efforts included improved coverage of sexual and reproductive, maternal, neonatal, child and adolescent health (SRMNCAH) and priority interventions, increased and sustained vaccination coverage, strengthened country capacity to prevent, detect and respond to public health emergencies, strengthening national capacity and coordination mechanisms in the area of HIV/AIDS, Malaria, TB, Public health emergencies preparedness and response, non-communicable diseases, NTDs and Mental Health.
It is worth noting that the WCO played an important role in strengthening national, regional and district health systems and services through people-centred service delivery approaches in line with the implementation of the Primary Health Care (PHC) principles.