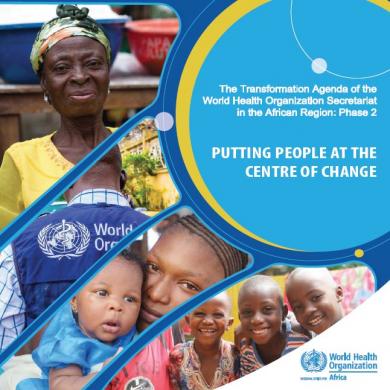 The Transformation Agenda of the World Health Organization Secretariat in the African Region - Phase 2 : PUTTING PEOPLE AT THE CENTRE OF CHANGE
When I launched the Transformation Agenda of the WHO Secretariat in the African Region in February 2015, I promised that I would lead the transformation of the Organization into a responsive, results-driven Secretariat. I knew this journey to achieve more for the people in the African Region would be arduous but rewarding. Change is never easy and success is not guaranteed. But as Nelson Mandela said, "It always seems impossible until it's done".
As we embark on the second phase of this journey, I reflect on the progress and some remarkable successes we have had over the past three years. I am filled with pride in the people who make up our Organization. I am humbled to work with colleagues who share the vision of an Organization that is proactive, results-driven, accountable and appropriately resourced to deliver on its mandate. In the same vein, we would like to extend our appreciation to our Member States and partners for their unwavering support
to this initiative.