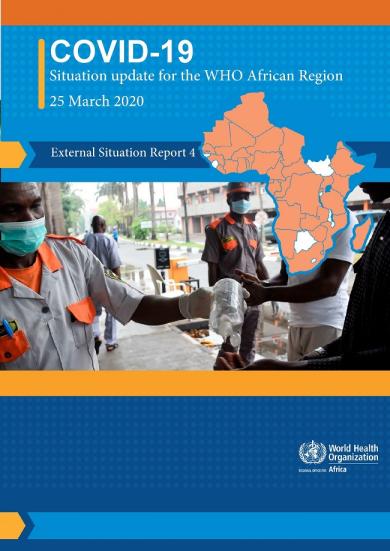 Situation reports on COVID-19 outbreak - Sitrep 07, 15 April 2020
Coronavirus disease 2019 (COVID-19) cases continue to rise rapidly across the African continent. No new countries have been affected since our last situation report on 8 April 2020 (External Situation Report 6). To date, 45 (96%) out of 47 Member States of the WHO African Region have reported COVID-19 cases. Comoros and Lesotho are the only Member States with no reported cases to date.
Over the past week, there has been a 51% increase in the number of cases and a 60% increase in the number of deaths reported in the WHO African Region. As of 14 April 2020 (epidemiological week 16), a cumulative total of 10 759 confirmed COVID-19 cases with 520 deaths (case fatality ratio CFR:4.8%) have been reported across the 45 affected countries in the region. The list of affected countries and their respective number of cases and deaths is presented.
Read full situation report on COVID-19 outbreak - Sitrep 07, 15 April 2020
(English | French)