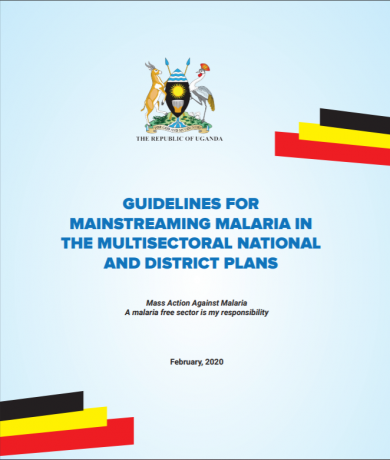 GUIDELINES FOR MAINSTREAMING MALARIA IN THE MULTISECTORAL NATIONAL AND DISTRICT PLANS
This guideline was developed by the National Malaria Control Division (NMCD), through a participatory process, in collaboration with the
Multisectoral Partnership Department of the Ministry and with technical support from the World Health Organization.
We are very grateful for this initiative of integrating malaria across all sectors that were led by: Dr. Jimmy Opigo, Assistant Commissioner for Health services; supported by NMCD staff, Mr.Peter Kwehangana Mbabazi, Dr.Catherine Maiteki-Sebuguzi, and Dr. Daniel Kyabayinze; and with technical assistance from WHO officers, Dr.Bayo Fatunmbi and Dr. Charles Katureebe.
We wish to express our sincere gratitude to all the officials of the Uganda Roll Back Malaria (RBM) Partnership who participated in the
different stages of the guideline development and review. The development of these guidelines was made possible by the financial support of World Health Organisation. This guidance is critical towards
strengthening and streamlining efforts by all Malaria multisectoral partners in sustainable malaria financing.
---