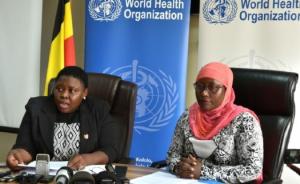 World Health Day 2017: Members of the media urged to increase awareness on depression
The Minster of State for Health in charge of Primary Health Care Dr. Joyce Moriku has urged the media to support the Ministry of Health (MoH) create awareness about depression in Uganda. This was at a press conference held at the MoH headquarters in Kampala in commemoration of World Health Day that was observed under the theme "Depression: let's talk"
Dr. Moriku pointed out that depression can affect anyone at any time and in any place emphasizing that that the disease is however treatable. Referring to studies done in 2014 under the Mental Health Gap Action Project that showed high levels of depression in Uganda Dr Moriku implored Uganda to " be alert, by recognizing early signs of depression and putting in place measures to curb complications following stressful events." The 2014 studies indicated that Northern Uganda has the highest level of depression with three out of ten people having severe signs of the disease.
WHO was represented at the function by Dr Hafisa Kasule the Officer responsible for Non-Communicable Diseases who delivered the WHO Regional Director's message on behalf of the Acting WHO Representative.
In the message WHO Regional Director Dr Moeti highlighted the need to prevent and treat those affected by depression. "We are all at risk: it affects people of all ages, from all walks of life, in all countries. Stigma and fear of social isolation are significant barriers to seeking help," she said.
Dr Moeti decried shortage of qualified professionals for mental health, with just one psychiatrist per one million people and a similar number of psychologists in the African Region. She thus called on governments to prioritize mental health programmes.
The WHO defines depression as an illness characterized by persistent sadness, loss of interest and ability to perform daily activities for a period of over two weeks. It is associated with feelings of guilt or low self-worth, disturbed sleep or appetite, tiredness and poor concentration. The major causes of depression include loss of loved ones or relationships, poverty, unemployment, physical illnesses, alcohol abuse, drug use, and traumatic situations such as violence and war.
At worst, depression can lead to suicide, which is the second leading cause of death in 15 – 29 year olds globally. Depression varies by age, peaking in older adults aged 55-74 years, but also occurring in children and adolescents. Left untreated, depression can be recurrent, long-lasting and weakening. It impairs an individual's ability to cope with daily activities, and can have devastating consequences for relationships with families and friends.
In Uganda, the Ministry of Health with support from partners has trained primary health care workers to recognize and treat depression. It has also sensitized VHTs in some regions about depression including identification, referral and follow up after discharge from a health facility. The government also provides first line treatment medicines for depression at all levels of care. General and Regional Hospitals provide more highly skilled professional treatments including psychosocial interventions.