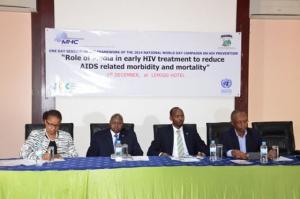 World AIDS Day Celebration in Rwanda
This year the World Aids Day was launched on December 1, 2014 at Lemigo Hotel, Kigali, with the theme entitled: "The Role of Media in Early Treatment to Reduce HIV related Morbidity and Mortality". The function gathered representatives of media community, newspapers, radio, television, and social media.
Convening all representative of media community was made easy because of the existence of ABASIRWA, an acronym meaning in Kinyarwanda "Abanyamakuru barwanya SIDA mu Rwanda". In English ABASIRWA means: the network of journalists in the fight against HIV/AIDS. The association has approximately 200 journalists actively engaged in providing information on HIV/AIDS. Also were present at the panel the Representative of the Minister of Health, Dr Sabin Nsanzimana, Head of AIDS Division , the Executive Secretary of Media High Council, , the Resident Coordinator of the ONE UN in Rwanda, the UNAIDS Country Coordinator, and the World Health Organization Representative.
The representative of the Minister of Health, in his remarks, stated that the World Aids Day offers additional opportunity of exploring ways to harness more vigorously the power of social change to firmly place people at the centre of the fight and to close the gap in accessing HIV services for specifics groups in the community. He reminded all stakeholders in the fight of HIV epidemic that the imperative of ending the Aids epidemic by 2030 is only possible by closing the gap between people who have access to HIV prevention, treatment, care and support services and people who are being left behind.
Dr Sabin highlighted key achievements of the National Programme: the overall HIV prevalence remained at 3%, since 2005. Rwanda made remarkable progress towards achieving universal access to HIV treatment, prevention care and support. Based on current eligibility criteria, more than 94% of adults requiring ARVs have access to them. The new infections have been reduced by half over the past ten years. Prevention of mother-to-child transmission (PMTCT) services are available in over 90 per cent of health facilities and HIV testing among women has increased by almost a third since 2005. It has also carried out additional measures, such as male circumcisions to contain new infections. However Dr Sabin noted that important challenges persist; among them, high HIV prevalence among female sex workers, 51% at national level and 56% in Kigali City. In addition, HIV incidence among adolescents is increasing especially among young girls. This evidence calls for much more targeted programmes to reach such vulnerable populations.
In their remarks, both the Resident Coordinator of ONE UN in Rwanda, Dr Lamin Maneh and the UNAIDS Country Coordinator, Dr Sibongile Dludlu, have emphasized the need efforts, to fast-track actions and close the gap between people who have access to HIV prevention, treatment, care and support services and people who are being left behind. They reiterate as UN family the commitment of continuing supporting Rwanda for the on-going implementation of the National Strategic Plan for HIV 2013-2018 to allow the country to accelerate progress towards ending Aids by 2030. They extended the UN family solidarity to all people living with HIV and Aids in Rwanda.
A press conference was organized to allow journalists to interact with panelists and ask questions on a variety of issues such as the global and national HIV epidemiological trend, the financing of HIV programme, HIV prevention, care, support and treatment and Rwanda success story in addressing HIV epidemic.
During this period of celebration of the World AIDS Day 2014, UN Agencies organized a UN family AIDS Day on December, 12, 2014 at World Food Programme Compound.The objective of the celebration of the World AIDS Day by UN family was to raise awareness on HIV among UN staff and their dependents, fight against stigma and discrimination associated with HIV and promote communication and education on sexual reproductive health with teenagers.
Also, Rwanda organized the 7th International Research Conference on HIV and AIDS from 03 to 05 December 2014 at Serena Hotel, Kigali. The conference theme was "Using evidence to save lives'. This conference gathered about 400 participants from different Countries. Important recommendations were formulated and will inform and guide the development of action plan of the next year 2015-2016.
______________________________________________
Photo 1 Photo 2 Photo 3 Photo 4
01. From left: UNAIDS Country Coordinator, UN Resident Coordinator, Head of AIDS Division MOH, and Media High Council Executive Secretary
02. Group photo: World AIDS Day 2014 Launching participants
03. World AIDS Day UN Family celebration
04. 7th International Research Conference on HIV and AIDS