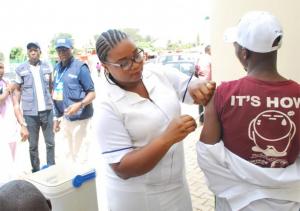 The second phase of Nigeria's biggest-ever yellow fever vaccination campaign gets underway
Abuja, 22 November 2018 - The Government of Nigeria – with support from the World Health Organization (WHO), Gavi, the Vaccine Alliance and UNICEF aims to vaccinate 26.2 million people this year through preventive campaigns. The second phase of its biggest-ever yellow fever campaign seeks to establish high population immunity nationwide and began today.
This step of the campaign, which is funded by Gavi will run from 22 November to 1 December 2018 and will target 18.6 million children and adults in Plateau, Sokoto, Kebbi, Niger and Borno states as well as the Federal Capital Territory.
"The vaccination will be for people within 9 months to 44 years cohort, parents are advised to avail themselves and their children to partake in the vaccination; The vaccine is free, safe and effective," said Dr Joseph Oteri, Director of Special Duties at Nigeria's National Primary Health Care Development Agency.
Yellow fever is caused by a virus spread through the bite of infected mosquitos. Some patients can develop serious symptoms, including high fever and jaundice (yellowing of the skin and eyes), but the disease can be easily prevented by a vaccine that provides immunity for life.
"Immunizing millions of people is a massive undertaking," said Dr Matshidiso Moeti, WHO Regional Director for Africa. "But this achievement will represent a huge step towards protecting people from the potentially deadly viral haemorrhagic disease not only in Nigeria but in the African region."
To ensure this phase of the vaccination campaign runs smoothly, the Federal Ministry of Health, in collaboration with WHO with support from Gavi, has trained and deployed Management Support Teams (MST). The MSTs are overseeing preparations in the run-up to the campaign and, in partnership with WHO yellow fever experts, will act as supervisors and provide technical assistance during the campaign itself.
"Nigeria is on the front line in the global battle against yellow fever," said Dr Seth Berkley, CEO of Gavi, the Vaccine Alliance. "Routine immunisation coverage remains dangerously low, as shown by the latest outbreak, which is why this campaign is so important to protect the vulnerable. While this campaign will save lives, we need to focus our efforts on the best long-term solution – improving routine immunisation coverage so every child is protected, preventing outbreaks from happening in the first place."
The first phase of this yellow fever preventive mass vaccination campaign (PMVC) took place in January and February 2018 in Kwara, Kogi and Zamfara states and parts of Borno state. Approximately 8.7 million adults and children between the ages of 9 months and 45 years of ages were vaccinated. A total of 26.2 million people are expected to be vaccinated against yellow fever this year.
The campaign is taking place as Nigeria experiences a yellow fever outbreak. Since its start in September 2017, confirmed cases have been recorded in 27 Local Government Areas across 14 states.
Nigeria is one of 50 partners pursuing the Eliminate Yellow Fever Epidemics (EYE) strategy. Steered by WHO, Gavi and UNICEF, the strategy seeks to protect at-risk populations, prevent international spread and contain outbreaks rapidly.
---
Kindly follow us on Social Media: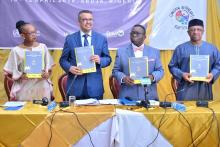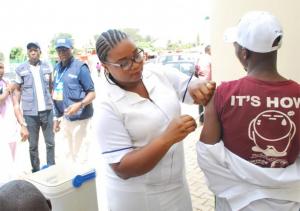 Click image to enlarge
For Additional Information or to Request Interviews, Please contact:
Tel: +234 810 221 0093
Email: warigonc [at] who.int
Email: gutcherl [at] who.int
WHO Yellow Fever Communications Officer
Email: biancov [at] who.int
Tel: +41 78 867 4043