The Promise of eHealth in the African Region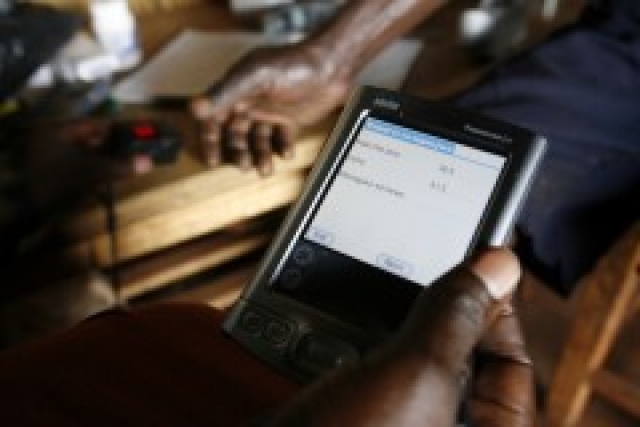 Brazzaville, 4 September 2013 -- Most African patients making repeat visits to a hospital or to their doctor are likely to have had at least one similar experience: they routinely see their doctor or other hospital staff digging through stacks of ancient manila files in search of handwritten notes of their medical records. The patients will even be lucky if their files are found with complete information.

Must this decades-old practice continue in this information age?

"No", says Dr Derege Kebede, head of the African Health Observatory (AHO) and Knowledge Management Unit at the WHO Regional Office for Africa Office (WHO/AFRO) in Brazzaville, Congo. "A solution already exists: electronic health or eHealth - countries and people in our region should embrace, promote and intensify the use of eHealth."

What is eHealth?

WHO defines eHealth as 'the cost-effective and secure use of information and communication technologies (ICTs) for health and health-related purposes'. Improvements in information and telecommunications infrastructure and the growing realization of the usefulness of fast means of communication are slowly turning Africa into part of the global village.

In recent years, the field of eHealth emerged in the region, thanks to the rapid rise in mobile phone use in Africa. In fact, Africa is now projected to have more mobile phones in the next few years than its current population of nearly one billion.

Other tools such as computers and patient monitors, among several others, are joining the mobile phone to make the field of eHealth even more exciting for prospects for health care delivery in the region.

Use of mobile phones - Impressive results

The new wave of mobile technology is dramatically changing the way health care is delivered in both urban and rural communities. From Algeria in North Africa to Cape Town in South Africa, simple but effective mobile phones are available and are being used to improve health outcomes.

Governments across the region, with the support of WHO and other partners, are integrating mobile phones in a range of promising applications: promotion of TB treatment adherence; communicating test results and monitoring patients' conditions; tracking malaria prevention and control efforts, including the movement of malaria commodities; delivering behaviour change messages to improve awareness and reinforce healthy behaviours. Increasingly, mobile phone based pregnancy support is used to educate women on pregnancy, monitor pregnancies, and provide critical information and updates.

But eHealth goes beyond the use of mobile devices such as cell-phones to share information.

"Countries in the Region are initiating, adapting and making commendable progress in more advanced applications of eHealth solutions", says Dr Kebede.

Examples from a few countries will serve to illustrate progress made generally in the field of eHealth (including mobile health or mHealth) and point to prospects for the future. In Rwanda, a trail-blazing country, TRACnet, a web-based application accessible both on mobile phones and computers, shows data and government HIV indicators from the field. It thus gives the viewer a comprehensive view of the status, patient load, and drug supply levels of all of the HIV/AIDS programmes in Rwanda.

Kenya, known for its leadership in mobile phone money transfer, now has a system which enables residents with a mobile phone to upload a locally-developed application that allows them to determine if a doctor or clinic is genuine. By simply sending an SMS, the user is shown up-to-date lists of licensed medical professionals and approved hospitals, starting with those nearest to him or her. In Uganda, an eHealth solution, mTrack, allows for the tracking of medical supplies to clinics in the country where 131 hospitals serve nearly 36 million people. Information gathered trough mTrack is amassed and coded and shows health officials what is going on in real time. Previously, this information was available only on paper.

Zambia recently deployed SmartCare, an electronic health record system that stores a person's data on a pocket-sized plastic card. In South Africa, HealthID, an electronic health record application enables the storage, in one location, of valuable clinical information including patients' data; details of their previous doctor and hospital visits; previously prescribed medicines and blood test results and patients' health measures such as blood pressure. Mali's eHealth 'IKON project' enables rural clinics in the country to forward scans and x-rays to specialists for review through ICT connections. These specialists are then able to advise doctors in remote clinics on what treatments should be dispensed. In Mozambique, SMS reminders and educational messages sent to HIV positive persons, including HIV positive pregnant women, help to improve HIV treatment adherence and prevention of mother to child transmission of HIV.

At the regional level, the African Health Observatory at WHO/AFRO supports regional and country efforts at strengthening health systems through its operations and a network of national health observatories. AHO is an open, collaborative platform that supports and facilitates the acquisition, generation, diffusion, translation and use of information, evidence and knowledge by countries to improve national health systems and outcomes.

Other regional eHealth initiatives include the Telemedicine Network for Francophone African Countries (which will facilitate exchanges, learning and executive education of health professionals in remote regions) and the ePORTUGUÊSe network, a platform to support the development of human resources for health in Portuguese-speaking countries.

The Banking and Finance sectors have exploited ICTs extensively to improve service delivery. This is a clear example that health care would immensely improve through the use of ICTs. There is a consensus in the modest but growing literature in the emerging field of eHealth about the benefits of its applications – for patients, health care workers, governments and health systems.

These range from improved access to health advice to enhanced quality of care through remote consultation and telemedicine and improved disease surveillance. It also makes it possible for policy- and decision-makers to collate and analyse data retrospectively and in real time to allow for efficient allocation of scarce resources.

Whatever its challenges, eHealth is proving to be a life saver in the African Region and as Dr Kebede would say," countries and people in our region should embrace, promote and intensify" its use.
AFR/RC63/9 Utilizing eHealth solutions to improve national health systems in the African Region