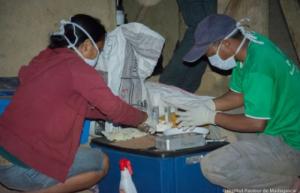 Plague outbreak in remote Madagascar puzzles investigators
Plague, though terrifying, is nothing new in Madagascar, where around 600 cases are reported annually. But there was something different about a suspected plague outbreak reported last December. The outbreak's location was far away from recent outbreaks and implied plague had spread to new parts of the island nation, but health officials couldn't explain it.
In December 2016, the Ministry of Public Health of Madagascar (MoPH), in line with the International Health Regulations (2005), alerted WHO to an outbreak of plague in Befotaka district in south-eastern Madagascar. The IHR requires countries to report to WHO any situation that might constitute a public health event of international importance. The outbreak began in August, but Befotaka is so remote and lacking in basic services – such as telecommunications and health facilities – that health officials only learned about the outbreak in December.