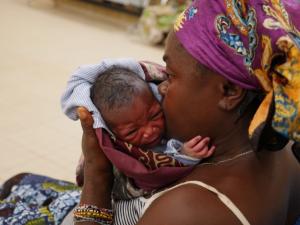 New report sheds light on tragic maternal death situation in Sierra Leone
FREETOWN (31 May 2017)—Sierra Leone's latest Maternal Death and Surveillance Report, released today at a launch in the capital, Freetown, calls for united actions from government, health workers, communities and partners to tackle the high number of maternal deaths in the country. In all, a total of 706 maternal deaths were reported during 2016, though the report suggests that the true figure may be much higher still. 
"This latest report reveals an unacceptably high level of maternal deaths in Sierra Leone, which is a true tragedy for our nation," said H.E. Dr. Ernest Bai Koroma, President of the Republic of Sierra Leone. "The Government, partners and I personally have committed to saving women's lives through substantive investments in health services and quality of care. However there are also things each and every one of us can do to help keep our mothers safe. Together we kicked out Ebola—we can end maternal mortality together too."
According to the report, which was produced by the country's Ministry of Health and Sanitation with support from partners, the main causes of maternal deaths, defined as any death that occurs in pregnancy or in the six weeks after delivery, were largely bleeding, pregnancy-induced hypertension, infection, and unsafe abortions. Indirect causes include anaemia and malaria during pregnancy. Close to 20 percent of maternal deaths were among teenagers (15-19 years). 
"The United Nations and its agencies are deeply alarmed by the level of maternal deaths in Sierra Leone," said Sunil Saigal, UN Resident Coordinator in Sierra Leone. "We remained dedicated to helping the Government and people of Sierra Leone build up their health system to end maternal mortality once and for all, and give the nation's mothers the hope and future they deserve."
In response to the report, leaders including the President of Sierra Leone, the Minister of Health, Paramount Chiefs, representatives from development partners and UN agencies are calling on the entire country to take action to ensure safe delivery for all pregnant women. Women and families are asked to ensure that all pregnant women give birth in health facilities and to support family planning as an important first step to safe motherhood. It will also be critical to engage adolescents on the risks of early pregnancy and increase knowledge and access to adolescent-friendly health services, experts say. 
The report estimates that up to that seven in ten maternal deaths currently go unreported, with gaps occurring especially when deaths occur outside of government maternity wards. This undermines health workers' ability to adequately address the causes of mothers dying. Communities are therefore urged to report any maternal death that happens to their nearest health worker.
Partners also expressed their commitment to supporting the country to tackle the underlying causes of maternal deaths. Sally Taylor, Head of DFID Sierra Leone, said, "This report underlines the importance of taking urgent action to reduce maternal mortality. The UK is committed to supporting the Government of Sierra Leone to strengthen health systems, expand access to family planning, including for teenage girls, and provide free healthcare to children and pregnant and lactating women." 
Sierra Leone has one of the world's highest maternal mortality rates, at an estimated 1,165 deaths per 100,000 live births according to government data. This is equivalent to eight unnecessary maternal deaths every day. 
This is a joint statement from the Government of Sierra Leone and UN partners: WHO, UNICEF and UNFPA.
Links 
Media Contacts
At the Ministry of Health
Kadrie Koroma
+232 766 72962
kadriekoroma [at] yahoo.comtarget="_blank"
At WHO
Laura Keenan
+232 786 33952
At UNFPA
Agnes Bangali
+232 791 16426
bangali [at] unfpa.orgtarget="_blank"