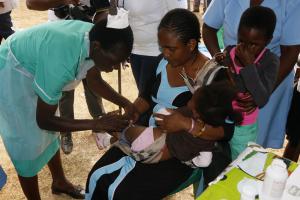 Malawi launches the Integrated Measles and Rubella Supplementary Immunization Activities campaign 12 to 16 June 2017
Lilongwe June 2017 - The Ministry of Health in Malawi in collaboration with the WHO, UNICEF, the Global Alliance for Vaccine Initiative (GAVI), the Red Cross International, the Lions Club and other partners successfully launched the Integrated Measles and Rubella (MR) Supplementary Immunization Activities (SIA) campaign on 9 June at Kasungu community ground. The Guest of Honour for the auspicious occasion was the Minister of Health, Dr Peter Kumpalume, MP. Among the distinguished guests were the WHO Representative - Dr Eugene Appiah Nyarko, UNICEF Malawi Representative - Mr Johannes Wedenig, Dr Charles Mwansambo - Chief of Health Services, Directors and Programme Managers from Ministry of Health, the Mayor and the District Executive Committee for Kasungu.
The WHO is providing technical assistance for national level planning, operations, training and data management while UNICEF is supporting the MR campaign with logistics, provision of vaccine supplies, capacity development, communication and community mobilization, as well as decentralized microplanning.
Making his statement to the enthusiastic gathering on the day, the Minister of Health, Dr Kumpalume emphasized that the campaign was an initiative to protect the future generation of Malawi from Measles, Rubella and health problems that result due to Vitamin A deficiency and intestinal worms. He paid tribute to the support provided by all immunization partners in Malawi, mainly GAVI, WHO and UNICEF.
In his remarks, the World Health Organization Representative, Dr Nyarko, reassured the audience that the Measles and Rubella vaccine is safe and effective. He reiterated that the WHO recommends immunization for all susceptible children and adults for whom measles vaccination is not contra-indicated. Reaching all children with 2 doses of Measles vaccine, either alone, or in a combined Measles and Rubella vaccine should be standard for all national immunization programmes. He went on to explain that although currently there are no Measles cases reported in Malawi, Rubella infection was becoming common in health facilities. 2015 surveillance reports revealed that out of 349 blood samples of suspected measles cases and analyzed at the Kamuzu Central Hospital Measles laboratory, only one case of Measles was confirmed, but 100 blood samples tested positive for Rubella.
In his speech the UNICEF Representative in Malawi, Mr Johannes Wedenig said although Measles and Rubella are among the biggest killers of children globally, they can easily be prevented through immunization. Mr Wedenig urged all parents, local leaders, religious leaders, teachers and all other stakeholders to seize this opportunity provided by the Measles and Rubella campaign to ensure that all eligible children are vaccinated, especially those in remote and underserved communities.
During the campaign week, the Measles and Rubella vaccine is to be administered to 7,991,665 children aged 9 months to 14 years, irrespective of their status of previous Measles or Rubella vaccination, or Measles or Rubella diseases. Vitamin A capsules is to be given to 2,693,266 children aged 6-59 months and de-worming tablets given to 2,292,862 children aged 12-59 months.
11,000 vaccination sites at health facilities, schools, and other outreach locations have been set up to vaccinate children. 22,000 health workers and 33,000 community partners and volunteers will operate the vaccination sites throughout the country. As a large number of eligible children are in primary schools, the vaccination teams will be visiting schools to vaccinate pupils.
____________________________________________
For more informationm please contact:
Hudson Wenji Kubwalo, Health Promotion Officer, Tel: 0888878011, Email: kubwaloh [at] who.int
Below :
Photo 1: A child being vaccinated against Measles and Rubella during the launch of the Integrated Measles and Rubella Supplementary Immunization Activities campaign at Kasungu community ground
Photo 2: The Minister of Health holding a child who had just received MR vaccine while the Health Surveillance Assistant is finger marking with permanent ink as evidence of MR vaccination