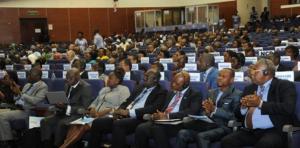 Health Ministers Endorse a Research Strategy for the African Region
N'Djamena, 25 November 2015 – Health ministers from the WHO African Region have endorsed a new strategy aimed at creating an enabling policy environment for conducting and utilizing high quality research to tackle the enormous health needs in the African Region.
'The strategy seeks to strengthen infrastructural and human capacity, provide effective coordination, improve utilization of evidence for policy and practice, and ensure adequate funding. We need to do more research to find solutions to health challenges facing the Region," said Dr Matshidiso Moeti, the WHO Regional Director for Africa.
Implementation of this strategy will lead to the development and strengthening of functional national health research systems (NHRS) that facilitate the generation and use of research to provide solutions to the health needs of the Region. This will require a multi-sectoral (education, health, science and technology, research and development) and an integrated approach aligned to regional and country health priorities.
Health research is critical in providing evidence-based solutions for the much-needed improvement in health and development. As a Region bearing high burden of communicable and non-communicable diseases and injuries, and facing health systems challenges, the African Region is in need of strong national health research systems to propel it towards achievement of universal health coverage, which can otherwise be hindered.
As things stand currently, the national health research systems in the Region – required to facilitate the conduct and use of research – are weak. Investments in health research are therefore insufficient and most research activities are driven by external partners with agendas that do not often address national health priorities. Many countries are facing significant challenges in training and retaining researchers. The training curriculum of health professionals is weak in research, the career paths for researchers are ill-defined, and incentives for researchers are poor.
Consequently, only a small proportion of graduates express interest in research careers, leading to an inadequate base of qualified researchers. This has led to the Region's low contribution to global research output, and insufficient tools and products against diseases that disproportionately affect the Region. This Regional Research for Health Strategy aims to improve national health research systems through interventions derived from recent developments in research.
The resonating message at the Global Ministerial Summits on Health Research in 2004 (Mexico) and 2008 (Bamako) and at the Algiers Ministerial Conference on Research for Health in the African Region in 2008, and during the adoption of the first global strategy on research for health in 2010 was that policies and practices in support of health should be grounded in the best scientific knowledge.
The Regional Research for Health Strategy, birthed from these previous calls for action, has now been endorsed by health ministers of the WHO African Region during the Regional Committee meeting taking place in N'Djamena, Chad from 23-27 November 2015, and is now ready for implementation by Member States.
_____________________________________
Regional Committee contacts:
Dr Martin Ota, Regional Adviser; Tel: +47 24139342; Email: kirijiaj [at] who.int
Collins Boakye-Agyemang, Regional Communications Adviser; Tel: + 242 06 520 6565; Email: boakyeagyemangc [at] who.int
Jonas Naissem, Communications Officer in Chad; Tel: +235 52 3805; Email: naissemj [at] who.int
AFR/RC65/6 Research for health: a strategy for the African Region, 2016–2025