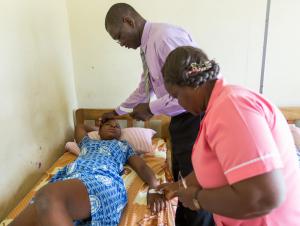 Celebration of the First World Patient Safety Day in Ghana
The first World Patient Safety day was observed in Ghana on the 17th September 2019 with the opening of National Conference on Patient Safety and Healthcare Quality which took place from the 17-19 September 2019. The Ghana Health Service in collaboration with the Ministry of Health, agencies and Health Partners, such as WaterAid and Systems for health and WHO organized this conference to contribute to the Global effort in achieving Quality Universal Health Coverage by 2030. The conference created a platform for all stakeholders to discuss Patient Safety and Healthcare Quality across Clinical, Public Health and administrative considerations in relation to Water, Sanitation and Hygiene (WASH) as well as Infection Prevention and Control (IPC). The theme for the conference was: 'No Quality, No Coverage'; WASH/IPC in all Healthcare Facilities now'. Awareness raising campaigns were organized all around the country in health facilities with the hanging of orange balloons to commemorate the day.
The Deputy Minister for Health speaking on behalf of the Minister at the opening ceremony said government was developing a road map policy on Universal Health Coverage, which includes actions on patient safety to improve the health of the citizenry because many patients suffer avoidable harm or were put at the risk of injury while receiving healthcare. He announced that Ghana, Ethiopia and South Africa were among African countries selected to model the Africa initiative involving 10 hospitals and it was aimed at reducing avoidable harm by 25 per cent in two years. The Minister of Sanitation and Water Resources, Cecilia Abena Dapaah, said government was committed to providing the needed technical support to improve sanitation especially in the health sector and urged health practitioners to ensure proper management of sanitation at the hospitals to improve healthcare delivery.
The WHO Representative Dr Owen Laws Kaluwa in his message from the Regional Director, WHO/AFRO, said that the WHO Regional Office for Africa recognizes and places high importance on patient safety to ensure that it has the rightful prominence within health care in the region. He said that there are many challenges in strengthening health systems to ensure patient safety in the region: (1) there is a lack of national policies, strategies, standards, guidelines and tools on safe health-care practices, and ineffective implementation where they exist; (2) inadequate funding; (3) inadequate human resources for health, weak health-care delivery systems with suboptimal infrastructure, poor management capacity and under-equipped health facilities; and (4) ineffective mechanisms for forging strong partnerships to adequately involve patients and civil society in the improvement of patient safety. He called on all stakeholders to make strong commitments, prioritize and take early action, and support the implementation of strategies for ensuring patient safety, managing risks and fostering supportive, learning cultures.
In concluding his remarks, he emphasized the point stated by the WHO Director General Dr Tedros Adhanom Ghebreyesus: "No one should be harmed while receiving health care, Patient harm in health care is unacceptable" and said that WHO is calling for urgent action by countries and partners around the world to reduce patient harm in health care as part of the journey towards Universal Health Coverage.