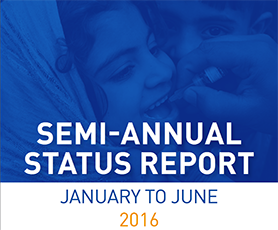 The Office of the Regional Director (ORD) supports the Regional Director (RD) in the efficient delivery of her mandate and in providing leadership and vision for the organization. The Office coordinates the RD's regular liaison and collaboration with countries, the UN system, development partners, donors and other stakeholders. It is also responsible for gathering and synthesizing relevant policy-related information for RD's decisions. It is intricately linked with the various Clusters within AFRO, WHO Country Offices and Inter-Country Support Teams, giving leadership and policy guidance to their work.
The ORD drives the Regional Director's Transformation Agenda - a strategy for change to enhance the performance of the WHO Secretariat as it supports Member States towards improved health outcomes. It is also the vehicle for accelerating WHO's global reforms. There are four focus areas of change: pro-results values; smart technical focus; responsive strategic operations; and effective communications and partnerships.
Units include Country and Inter-country Support; External Relations, Partnerships and Governing Bodies; the Ombudsman; Communications; and the Polio Eradication Programme which, with significant funding, is working to eradicate polio in the African region.