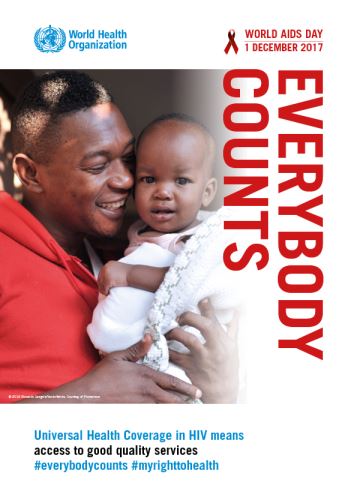 In 2015, global leaders signed up to the Sustainable Development Goals, with the aim to achieve universal health coverage (UHC) by 2030. The UHC framework now lies at the centre of all health programmes.
This year's World AIDS Day theme is "Right to health". There is a significant progress in the African Region in the prevention and treatment of HIV/AIDS, but the right to health for all is not being realized. Young people, especially young women, continue to be at great risk of HIV infection. Children are often missed out, key populations such as sex workers, men who have sex with men and injecting drug users are not being reached, and men are also left behind. Countries in the West and Central African sub-regions still lag behind the rest of the continent. WHO and its partners are working with these member states to implement catch-up plans to accelerate HIV treatment.
Under the slogan "Everybody counts", WHO will advocate for access to safe, effective, quality and affordable medicines, including medicines, diagnostics and other health commodities as well as health care services for all people in need, while also ensuring that they are protected against financial risks.
Key messages to achieve univeral health coverage
Leave no one behind.
HIV, tuberculosis and hepatitis services are integrated.
High-quality services are available for those with HIV.
People living with HIV have access to affordable care.
The HIV response is robust and leads to stronger health systems
Message of the Regional Director for Africa, Dr Matshidiso Moeti, on World AIDS Day 2017