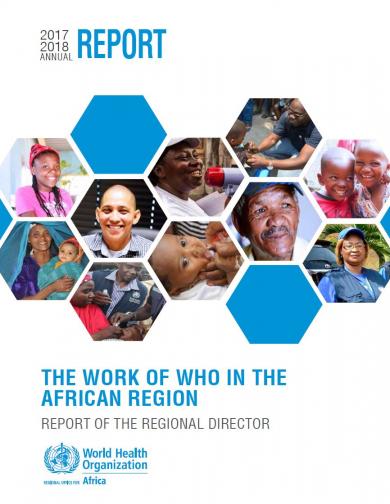 The work of WHO in the African Region: Report of the Regional Director 2017-2018
The reporting period includes part of the last year of the WHO Programme Budget 2016-2017 and the first year of the WHO Programme Budget 2017-2018. The report outlines the significant
results achieved under the six categories of work of the 12th General Programme of Work, which ends in December 2018.
The report also highlights some of the key achievements made in implementing "The Transformation Agenda of the World Health Organization Secretariat in the African Region; 2015- 2020", launched by the Regional Director in February 2015 and endorsed by the WHO Regional Committee for Africa at its Sixty-fifth session in September 2015.
The report demonstrates how continued progress has been made in key areas of the Transformation Agenda, including improving the capacity of WHO and Member States to detect and rapidly respond to the multiple epidemics the Region experiences; the move towards universal health coverage (UHC) as part of efforts to achieve the Sustainable Development Goals (SDGs); and the push towards making the Secretariat of the WHO African Region more proactive, results-driven and appropriately resourced to deliver on its mandate to serve Member States in attaining the highest possible level of health.