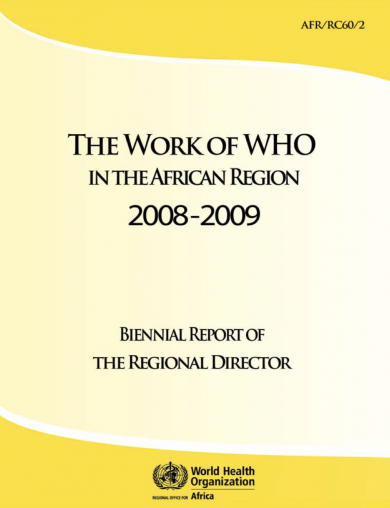 The Work of WHO in the African Region, 2008 - 2009 - Biennial report of the Regional Director
The 2008-2009 biennium was the second biennium in the implementation of the WHO global health agenda as de ned in the 11th General Programme of Work 2006– 2015. It was the rst biennium of implementation of the WHO Medium Term Strategic Plan (MTSP) that sets out the WHO strategic directions for the period 2008–2013. The last year of the biennium marked the end of the rst term of of ce of Dr Luis Gomes Sambo as WHO Regional Director for Africa and saw his re-election for a second term during the Fifty-ninth session of the Regional Committee, held in Kigali, Rwanda, from 31 August to 4 September 2009.
The biennium under review also saw the celebration of the 60th anniversary of the establishment of WHO and the 30th anniversary of the Alma Ata Declaration on Primary Health Care. The World Health Report 2008 and the World Health Assembly Resolution WHA62.12 on Primary Health Care, including Health System Strengthening reaf rmed the values and principles of the Alma Ata Declaration as central to health development. WHO global consultations, declarations and reports on major health issues such as social determinants of health; public health, innovation and intellectual property; research for health; and health promotion, have created opportunities to mobilize efforts and resources to address some of the main health challenges in the Region.