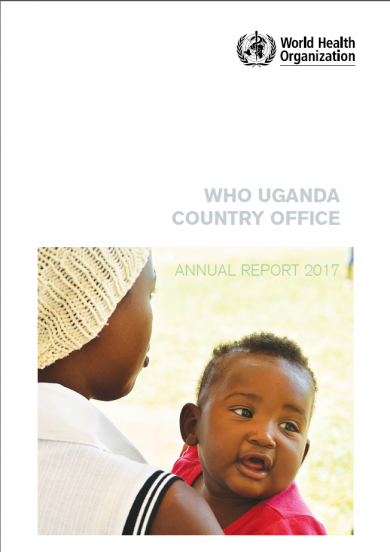 WHO UGANDA COUNTRY OFFICE- ANNUAL REPORT 2017
One of the major highlights of 2017 was the outbreak of Marburg Virus Disease (MVD) in Kween and Kapchorwa districts, eastern Uganda. During the outbreak, two cases were confirmed, there was one probable case and 311 contacts were identified and followed up until they were declared free of MVD. A number of lessons were learnt from this outbreak. The first was that government leadership and coordination of all response activities determines the speed and efficiency with which the disease is contained. We commend the Ministry of Health for the leadership and efficient coordination during the outbreak. Secondly, quick notification by the government, as guided by the International Health Regulations (IHR), helped to quickly mobilize and deploy technical and logistical support needed in such situations.
It is therefore important that countries regularly review and update all the core IHR competencies because they are critical to disease outbreak response. The third is international collaboration which is also well articulated in the IHR. There were fears that the MVD could have spilt over to Kenya given the close interactions of people at the border and the fact that one of the confirmed cases went to Kenya in search of local medicines. The quick collaboration between Uganda and Kenya to deal with the threat was recorded as one of the best that countries ought to emulate during disease outbreaks that threaten global health.