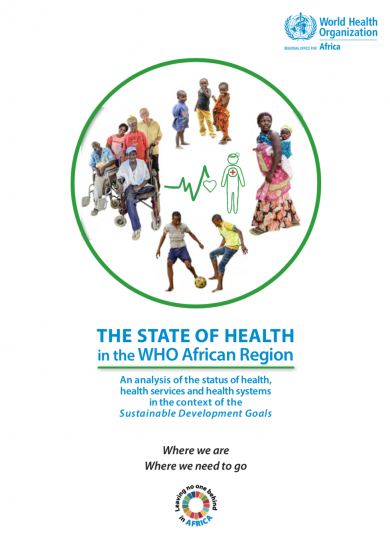 State of health in the WHO African Region
The peoples of Africa aspire to a future of good health and well-being. The health and health-related Sustainable Development Goals (SDGs) build on this hope, providing guidance to ensure that no one is left behind as the continent progresses towards sustainable and equitable health. To achieve this, a coherent and logical approach to the adaptation of the SDGs is needed, to ensure that the health dividend accrued in the coming years is enjoyed equitably and plays its role in accelerating the development of the continent.
The WHO Regional Office for Africa has set up a process to ensure that countries walk together as they march towards sustainable and equitable health. This report is a recognition of the complexity of actions needed. It aims to provide guidance on where countries need to focus as they plan their work towards attaining the SDGs. It will also serve as a benchmark for future comparison of progress.
This report is not a country scorecard. Rather, its purpose is to act as a compass to guide progress towards health in the SDGs. The Regional Office aims to regularly provide such information to countries, so that they can attain their health goals in the most efficient and effective manner.