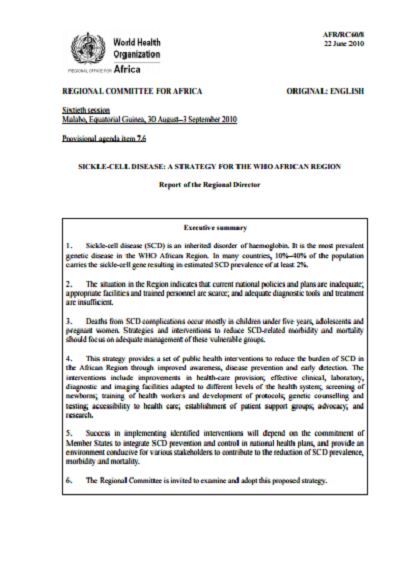 Sickle cell disease
Sickle cell disease (SCD), or sickle cell anaemia, is a major genetic disease that affects most countries in the African Region. In sickle cell disease, the normal round shape of red blood cells become like crescent moons. Round red blood cells can move easily through the blood vessels but sickled shaped cells interconnect and can result in blood clots.
These blood clots can cause extreme pain in the back, chest, hands and feet. The disrupted blood flow can also cause damage to bones, muscles and organs. People with sickle cell disease often feel weak, tired and look pale. The whites of the eyes and skin often have a yellowish tint.
Environmental factors often play a role in the occurrence of painful attacks. Common triggers include cold temperatures, dehydration, excessive amounts of exercise and tobacco smoke. Other triggers such as plane flights and high altitudes can also trigger an attack.
In the Region, the majority of children with the most severe form of the disease die before the age of 5, usually from an infection or severe blood loss. In countries such as Cameroon, Republic of Congo, Gabon, Ghana and Nigeria the prevalence is between 20% to 30% while in some parts of Uganda it is as high as 45%.