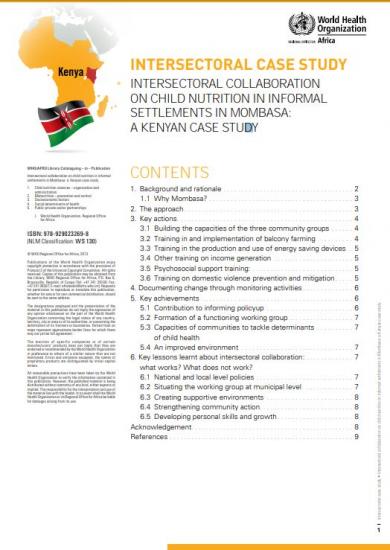 Intersectoral collaboration on child nutrition in informal settlements in Mombasa: a Kenyan case study
Disparities in opportunities between rural and urban areas, as well as other historical factors, have led to the rapid growth of informal settlements and slum communities in urban areas in which residents experience social and economic disadvantages. There is a strong and well-established link between social and economic disadvantage and child malnutrition, the consequences of which can be longterm and irreversible, reducing educational achievement and negatively impacting human capital development. Children from resource poor settings are especially at risk of malnutrition and other forms of deprivation, and interventions that tackle single determinants of poor child health have little chance of long-term impact. In view of the foregoing, the Nutritional Improvement for Children in Urban Chile and Kenya (NICK)is being implemented in one of Mombasa's informal settlements through supporting intersectoral action research to tackle the social determinants of child malnutrition. Mombasa was chosen as it had been relatively unresearched and little was known about the dynamics of child undernutrition. The NICK project was informed by findings of the World Health Organization (WHO) commission on social determinants, as well as other considerations that included policy, supportive environments, local capacity and the need to review how different stakeholders view health conditions.
NICK supported the formation of a municipal level intersectoral Urban Nutrition Working 6roup (UNW6) to implement action plans developed on the basis of evidence and existing theories. Three community-based groups were supported to implement activities aimed at tackling the determinants of child undernutrition. Quantitative pre-and-post intervention results will be ready by end of 2013. However, qualitative results indicate that it is possible to bring together members from different professions, ministries and community groups to work together to not only think about the causes behind the causes of health and disease, but to design, implement and monitor seemingly unrelated interventions aimed at tackling a specific concern. The success of working groups is however dependent upon the availability of conducive policy and supportive environments, space for individual and group growth and achievements and community ownership - all situated at the appropriate level in national and local governance systems such as counties and municipalities.