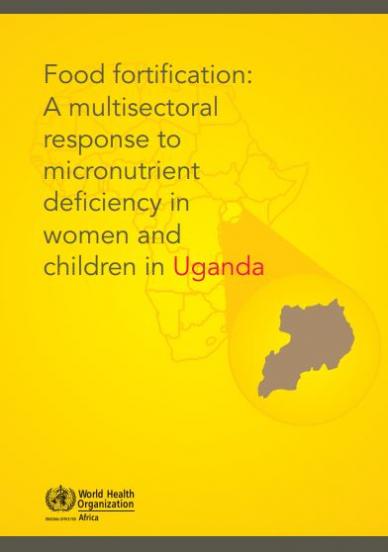 Food fortification: A multisectoral response to micronutrient deficiency in women and children in Uganda
This case study was prepared jointly by the Ministry of Health and the Social Determinants of Health Unit, World Health Organization, Regional Office for Africa. Financial support was made available through the Spanish Core Contribution Grant for Social Determinants of Health (SDH) received by the Department of Ethics and Social Determinants of Health of the World Health Organization. The overall aim of Spanish Core Contribution Grant for SDH is to strengthen leadership and stewardship role of Ministry of Health to addressing social and economic determinants of health. It supports documentation of country level experiences in using intersectoral actions aimed at addressing the key social determinants of priority public health conditions.
An earlier draft of this case study was included in a special collection of global experiences on intersectoral actions which was widely disseminated during the World Conference on Social Determinants of Health held in Rio de Janeiro, Brazil in 2011. At the country level, the review process leading to the finalization of the case study generated multi- stakeholder policy and strategy discussions on implementing intersectoral actions to address social determinants of health.
The final product is a result of collective efforts of many individuals and organizations. However, the drafting team included David Ouma Balikowa, Health Communication Specialist, Uganda; Dr Paul Kagwa, Assistant Commissioner, Health Services, Health Promotion and Education, Ministry of Health, Uganda; Benjamin Sensasi, WHO Uganda; Dr Patricia Akweongo, University of Ghana.
The overall guidance and technical inputs to the project from WHO Regional Office for Africa are gratefully acknowledged, namely: Dr Tigest Ketsela, Director Health Promotion Cluster; Dr Davison Munodawafa, Programme Area Coordinator, Determinants and Risk Factors; Dr Chandralall Sookram and Mr Peter Phori; and Dr Eugenio Villar, SDH Coordinator in WHO HQ, Geneva. We are indebted to the many people who made valuable inputs throughout the process who cannot be mentioned by name. Last but not least, we express great appreciation for the support received from the Government through the Ministry of Health to conduct this activity.