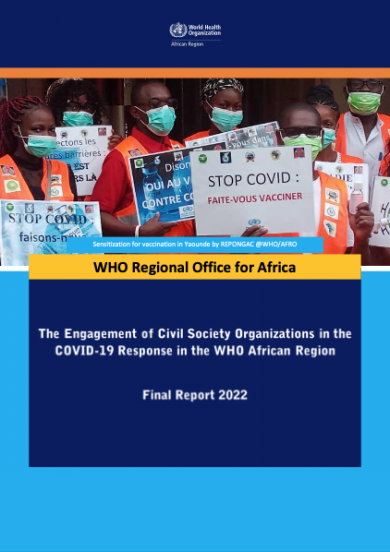 The Engagement of Civil Society Organizations in the COVID-19 Response in the WHO African Region
Recognizing the key role of civil society organizations (CSOs) in the response to public health emergencies, the World Health Organization (WHO) has built new strategic and operational partnerships with these non- State actors. While WHO's main mission is to support the ministries of health (MoH), the inclusion of CSOs opens new perspectives to improving the response to public health emergencies both at the national and community levels.
In 2019, WHO designed a new pilot initiative to better engage CSOs in the response to outbreaks. The "CSO Engagement Initiative" has been implemented in the six WHO Regions. Meanwhile in 2020, the COVID-19 pandemic shed a new light on the critical role of CSOs to ensuring that communities understand and accept the public health response measures targeting in particular vulnerable people.
---