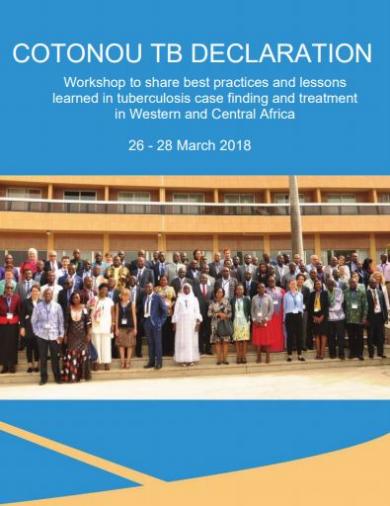 Cotonou TB declaration: Workshop to share best practices and lessons learned in tuberculosis case finding and treatment in Western and Central Africa, 26 - 28 March 2018
We note with concern that every year, the Western and Central Africa (WCA) Region is missing more than 50% of TB cases. Among children, three quarter of cases are missed.
The estimated mortality in TB/HIV co-infected patients in WCA region is 50% higher than in the rest of Africa. Our national programs are currently diagnosing and treating only 20% of the patients suffering from DR-TB.
We, the National TB Programs of WCA region*, having come together with partners at the Regional Workshop in Benin, reaffirm our commitment to end TB as declared in the Sustainable Development Goals and require absolute commitment from our Governments.
We recognize that 2018 is a historical moment in the fight against TB, with the upcoming UN General Assembly (UNGA) High Level Meeting on TB in September.