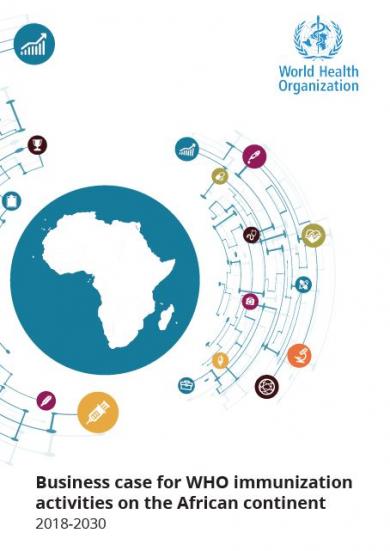 Business case for WHO immunization activities on the African continent 2018-2030
While Africa has seen tremendous progress towards access to immunization, one in five African children still lack access to all the World Health Organization (WHO) recommended life-saving vaccines, a threat not only to the health of families, but also to the strength of economies and equity in African societies.
The Global Vaccine Action Plan (GVAP) 2011-2020, endorsed by Member States during the May 2012 World Health Assembly, has set ambitious targets to improve access to immunization and tackle vaccine-preventable diseases. This responsibility has been translated into firm commitments in February 2016, through the signature of the Addis Declaration on Immunization (ADI) by African Ministers and subsequently endorsed by the Heads of States from across Africa at the 28th African Union Summit held in January 2017. This commitment from the highest level of government comes as a catalyst to immunization efforts on the continent to deliver on the promise of universal immunization coverage.
With the GVAP 2020 targets approaching and the ADI roadmap being implemented, accelerated efforts are required to improve immunization systems. In parallel, the Global Polio Eradication Initiative (GPEI) and Gavi the Vaccine Alliance transitions require a plan to mitigate the consequences of this imminent and drastic reduction in resources.
---