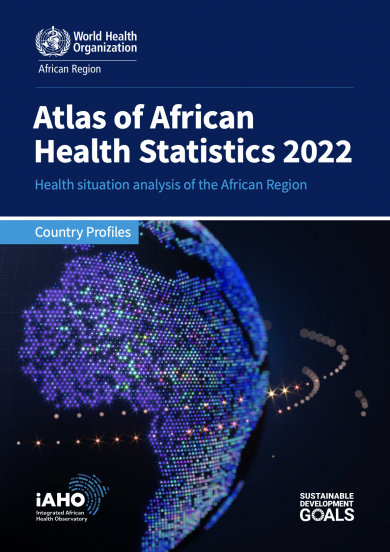 Atlas of African Health Statistics 2022: Health situation analysis of the WHO African Region — Country profiles
This Atlas 2022 has been prepared by a core team from Assistant Regional Director Cluster of the WHO Regional Office for Africa under the leadership and guidance of the Cluster Director, Lindiwe Makubalo, and DAK (Data, Analytics and Knowledge Management) Team Leader, Humphrey Cyprian Karamagi. The technical core team was coordinated by Serge Bataliack and included Berence Relisy Ouaya Bouesso, Anaclet Geraud Nganga Koubemba, Bertha Kembabazi, Jadice Mandimba, Aminata Seydi, Sokona Sy, Monde Mambimongo Wangou and Auge Wilson.
The first draft of the Atlas was developed by consultants from the Health Systems Strengthening and Development (HSSD) group under the coordination of Samuel Ndame Ebongue with Ebongue Mbondji and Ursull Saha.
The information is consolidated from products and deliverables of the Life Course, Communicable and noncommunicable, healthier populations and emergency preparedness clusters.
Specific sections of the Atlas were reviewed by the relevant technical programmes and units in the Regional Office, under the guidance of the Cluster Directors and Team Leaders. Special thanks to Antonios Kolimenakis, Ali Ahmed Yaya, Guy Mbayo, Juliet Nabyonga, Kone Brama and Laetitia Ouedraogo, Jeff Kabinda, Ajoy Nundoochan, Indrajit Hazarika, Henri Mbiya Ngan- du, Dadji Kwami, Rajesh Narwal, Candide Tran Ngoc, Eva Pascoal, Benoit Nkoyandemye, Leonard Cosmas, Batanai Moyo, Thandekile Moyo and Sosthene Zombre who completed a comprehensive review of the document and provided invaluable guidance and input to the team. And finally, special thanks to Matthias Reichwald who did the graphic design for this Atlas.
---