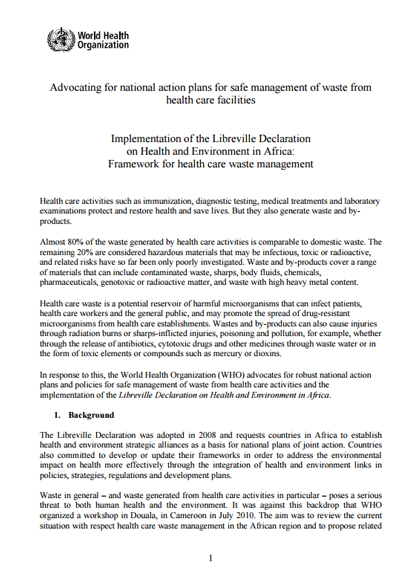 Advocating for national action plans for safe management of waste from health care facilities
Implementation of the Libreville Declaration on Health and Environment in Africa: Framework for health care waste management
---
Health care activities such as immunization, diagnostic testing, medical treatments and laboratory examinations protect and restore health and save lives. But they also generate waste and byproducts.
Almost 80% of the waste generated by health care activities is comparable to domestic waste. The remaining 20% are considered hazardous materials that may be infectious, toxic or radioactive, and related risks have so far been only poorly investigated. Waste and by-products cover a range of materials that can include contaminated waste, sharps, body fluids, chemicals, pharmaceuticals, genotoxic or radioactive matter, and waste with high heavy metal content.
Health care waste is a potential reservoir of harmful microorganisms that can infect patients, health care workers and the general public, and may promote the spread of drug-resistant microorganisms from health care establishments. Wastes and by-products can also cause injuries through radiation burns or sharps-inflicted injuries, poisoning and pollution, for example, whether through the release of antibiotics, cytotoxic drugs and other medicines through waste water or in the form of toxic elements or compounds such as mercury or dioxins.
In response to this, the World Health Organization (WHO) advocates for robust national action plans and policies for safe management of waste from health care activities and the implementation of the Libreville Declaration on Health and Environment in Africa.
---