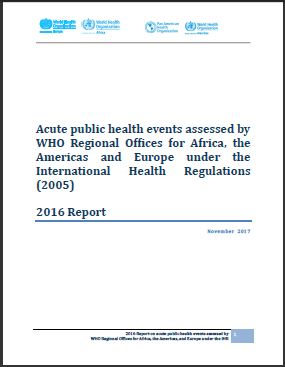 Acute public health events assessed by WHO Regional Offices for Africa, the Americas and Europe under the International Health Regulations (2005) 2016 Report
The World Health Organization (WHO) and its Member States have committed, within the framework of the International Health Regulations (2005) (IHR), to detect, verify, assess and report events that may pose a risk to international public health. This report summarizes public health events detected, verified, assessed and reported in three WHO Regions, namely Africa, the Americas and Europe. from 2001 to 2016, with a focus on 2016.
From 2001 to 2016, some 5472 events were recorded in the WHO Event Management System (EMS), 373 of which were recorded in 2016. Of these, 238 events were in the WHO Region of the Americas, 92 in the WHO African Region, and 43 in the WHO European Region. Most of these events were of infectious origin, including large yellow fever outbreaks; continuation of the Ebola and Zika virus disease outbreaks including imported Zika congenital syndrome cases; sequelae of civil conflicts and natural disasters; imported cases of Lassa fever and Coronavirus. Of all events recorded in 2016, 68% were substantiated, ranging from 63% in the Americas to 94% in the African Region. More than 700 reports regarding events reported in 2016 were disseminated to the international public health community through various channels.