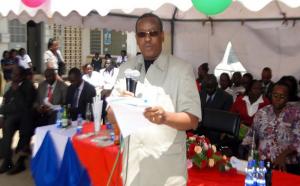 World Immunization Week launched
Nairobi Kenya, 22 April 2013 -- The World Immunization Week (WIW) was successfully launched at a colorful ceremony at Makadara Health Centre grounds in Nairobi County. Gracing the occasion was the representative of the Director, Ministry of Public Health and Sanitation, Dr Tatu Kamau. Other dignitaries in attendance included: the WHO Country Representative, Dr Custodia Mandlhate; UNICEF Country Director, Mr Marcel Rudasingwa; local Member of Parliament; representatives of USAID, Rotary district governor, Lions Club and Latter Day Saints Church; senior government officials; health workers; parents and children; and the local media houses.
The week will be marked nationally from 22 to 28 April with the aim of raising awareness of the importance of immunization. Kenya adopted the global theme for the week, "Save Lives, Prevent Disabilities, Vaccinate".
In his remarks, delivered by Dr Tatu Kamau, head of the Division of Vaccines and Immunization, the Director urged all parents, care-givers, local leaders and the public at large to avail their children for vaccination at the nearest health facility. The Director assured the public that the vaccines are safe, efficacious and are offered free of charge in all health facilities in the country.
The UN message for the World Immunization Week was delivered by the UNICEF Country Director, Mr Marcel Rudasingwa Kanyankore. The UN representative reiterated the appeal to all present to take their children for immunization. "I would like to appeal to families and communities to do the right thing: Know your children's immunization schedule and take them to your health centers to make sure that they are fully immunized, encourage your family members, friends and neighbours to get their children and themselves fully immunized," said Mr. Marcel. In addition, Mr. Marcel congratulated the government for recent gains made in the programme, including the accelerated efforts to reach every child and the increased training and recruitment of health workers.
During the launch, the Kenya Chapter of Rotary Polio-Plus donated 40 motorbikes to the government of Kenya to be used to support polio eradication activities. The Rotary club of Kenya has been instrumental in supporting immunization activities in the country with particular emphasis on polio eradication.
A forum to sensitize stakeholders on this year's WIW was held in Nairobi on the 19 April. The forum provided an opportunity to engage the media and create awareness on the importance of immunization. The status of immunization in Kenya was presented and discussed at the forum. Kenya has attained a national coverage of 83% for the fully immunized child.
The government appealed to all stakeholders to assist in reaching the remaining 17% of unvaccinated children. Delivering the UN message at this forum, the WHO Country Representative, Dr Custodia Mandlhate congratulated the government of Kenya for their effort to reach all Kenyan children with vaccines and introduction of new vaccines. Dr Custodia reiterated WHO's and the entire UN's commitment in supporting the country achieve its health target.