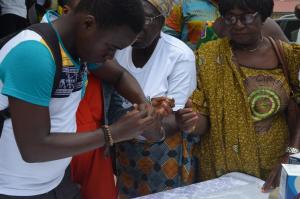 Women and Girls should be empowered to strengthen their capacity to prevent Type 2 Diabetes
The Honourable Deputy Minister for Health, Mr Aboagye Gyedu, has called for women and girls to be empowered with easy and equitable access to knowledge and resources to strengthen their capacity to prevent type 2 diabetes in their families and better safeguard their own health. He made this statement during this year's World Diabetes Day Celebration at Kyebi in the Eastern Region of Ghana under the theme "Women and Diabetes-our right to a healthy future". Mr Aboagye Gyedu also mentioned the importance of physical activities in diabetes prevention and control.
"Promoting opportunities for physical exercise in adolescent girls, must be a priority for diabetes prevention" he said. Mr Aboagye Gyedu pledged Government's commitment and support for Diabetes Prevention and Control Programmes especially for the provision of screening services at all levels of health service delivery.
The WHO Representative, Dr Owen Kaluwa whose statement was read on his behalf by Ms Joana Ansong, the Health Promotion Officer indicated that the growing prevalence of obesity and overweight was due to a combination of poor diets resulting from aggressive marketing of foods rich in fats, sugar and salt. He added that reducing the prevalence of Type 2 diabetes required a life-course approach starting early in childhood and continuing throughout adolescence to adulthood.
"Healthy nutritious diets should be available at home and school and children and adolescents should be encouraged to engage in physical activities" he said.
Dr Kaluwa appealed to the government to take bold measures to ensure that women and girls have access to services for screening diabetes, adequate care including medication, counselling and information on diabetes. He added that policies that increase the availability of nutritious and healthy foods such as fruits and vegetables should be promoted.
Solidarity messages were presented by the Eastern Regional Director for health Services, Dr Charity Sarpong , representatives from the Jesus Christ of the Latter Day Saints Church in Ghana, the National Health Insurance Authority (NHIA) and the Eastern Regional Coordinating Council. All the messages emphasized the role of women as gatekeepers of household nutrition and lifestyle habits and therefore have the potential to drive prevention from the household and beyond.