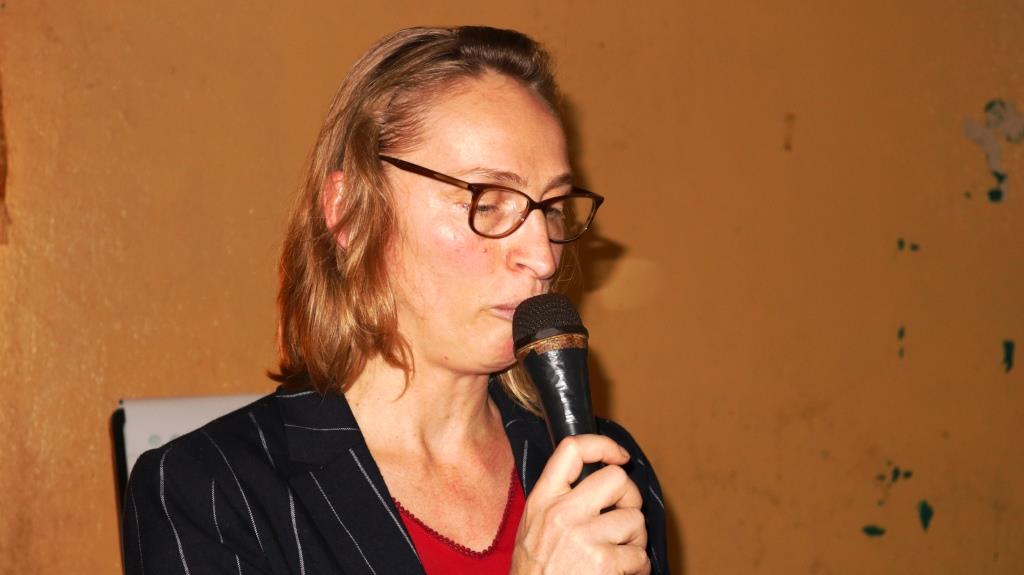 Buchanan, 30th November 2018:  The World Health Organization (WHO), World Organization for Animal Health (OIE) in collaboration with the National Public Health Institute of Liberia (NPHIL) conducted a 3-day stakeholder's workshop in Buchanan, Grand Bassa County. The purpose of the workshop was to bridge assessment gaps vis-a-vis of the International Health Regulations (IHR) and Performance of Veterinary Services (PVS).
The three days IHR-PVS Pathway National Bridging Workshop provided an opportunity for human and animal health actors to build on assessments conducted in the human health and animal health sectors and set the stage for collaboration intended to jointly strengthen preparedness, control, and response to diseases in Liberia. During the workshop, participants critically reviewed two essential documents:  the IHR and PVS Assessment Report to identify gaps and also recommended that the two documents be aligned to harness synergy among the documents.  They also discussed and explored various options for improving coordination, using the One Health Platform. Represented at the workshop were 103 participants from diverse institutions;  the Ministry of Health (MOH), the Ministry of Agriculture (MOA), Environmental Protection Agency (EPA), the National Disaster Management Agency (NMDA),  the United Nations Food and Agriculture Organization (FAO), among others. 
Representing Dr. Monique Eloit, OIE Director General, Ms. Sophie Muset read a statement in which the Director-General expressed her appreciation to the authorities of Liberia for organizing the IHR-PVS Workshop and indicated that this demonstrated the country's commitment and continued efforts to combat animal diseases including zoonosis. In the statement, the Director-General further emphasized that the fight against zoonosis requires the effective implementation of the "One Health Approach".   She then concluded that using a capacity-building approach, WHO and the OIE have developed frameworks and tools aimed to support member countries in assessing the capacities of their human and animal sectors.
In her opening remarks, Dr. April Baller, WHO-Liberia Health Emergency Cluster Lead thanked WHO –HQ and AFRO for the financial and technical support in organizing the first of its kind, IHR-PVS Workshop in Liberia.  She further said that nearly all of the outbreaks that have occurred in Liberia have had animal sources and this, she further emphasized made the hosting of the IHR-PVS bridging Workshop very relevant in strengthening the Country's core capacity.
Other speakers including representatives from the FAO, NDMA, EPA, MOH, and MOA thanked the WHO and OIE for organizing such an important workshop and pledged their institutions commitment to the full implementation of the "One Health Approach" in the country.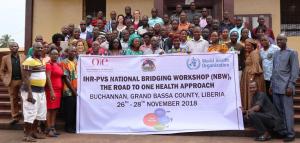 Click image to enlarge
For Additional Information or to Request Interviews, Please contact:
Health Information and Promotion officer
Tel : +(231) 776532008
Email: lakev [at] who.int
National Infection Prevention and Control Officer
WHO-Liberia
Tel: + (231) 770205707
Email: bolongiem [at] who.int