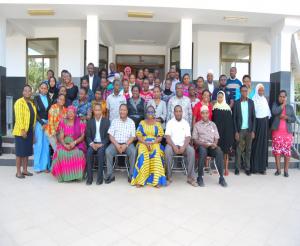 WHO strengthens sentinel surveillance for vaccine preventable diseases
18-20 June 2018, Dodoma: A sentinel surveillance system is used when high-quality data are needed about a particular disease that cannot be obtained through a passive system.Data collected in a well-designed sentinel system can be used to signal trends, identify outbreaks and monitor the burden of disease in a community, providing a rapid, economical alternative to other surveillance methods.
Ministries of Health Tanzania Mainland and Zanzibar in collaboration with World Health Organization gathered in Dodoma for three days to evaluate the performance of sentinel sites for paediatric bacterial meningitis, rotavirus and congenital rubella syndrome. The coordination meeting was attended by participants from 8 sentinel sites. These included paediatricians, nurses, laboratory technologists and site data focal persons.
The overall meeting objective was to strengthen the sentinel‐hospital based rotavirus, Pediatric Bacterial Meningitis (PBM) and CRS surveillance by addressing key issues related to the technical, data management and administrative.
During the opening participants were reminded of the progress made in the last 17 years of conducting sentinel surveillance where by new vaccines were introduced after the evidence of the burden of disease provided by the sentinel sites. Rotavirus Vaccine impact assessment was also done in the sentinel sites and provided evidence of the effectiveness of rotavirus vaccine in reducing diarrhoea in children under 5 years caused by rotavirus. Surveillance for intussusception revealed no additional risk posed by the use of rotavirus vaccine in routine immunization. Congenital rubella syndrome surveillance is also conducted in the same sentinel sites to monitor progress towards elimination of rubella.
Participants were encouraged to maintain the quality of surveillance sites by adhering to standard operating procedures and maintain timeliness in reporting of data. Presentation form all sentinel sites indicated a notable reduction in the number of diarrhoea cases for children under 5 years due to rotavirus and meningitis cases due to Haemophilus influenza type b after introduction of vaccines. The government is committed to ensure the surveillance sites are continuing to perform well as per the indicators and mobilise resources from own sources.
WHO and other partners are committed to continue to provide support to the government to ensure that sentinel surveillance and surveillance of other vaccine preventable diseases performance standards are maintained.