Brazzaville/Algiers, 15 February 2019 - The WHO Regional Director for Africa, Dr Matshidiso Moeti has re-affirmed WHO's support to improve the health and well-being of Algerians. She made the remarks during a courtesy call on His Excellency Ahmed Ouyahia, Prime Minister of the Republic of Algeria. The Regional Director was in Algeria for a three-day official visit at the invitation of the Algerian government from 13 to 16 February 2019. This is her first official visit to the country.
"I am very impressed and encouraged by all that the Algerian Government has been able to do over the past decades to improve health care for the people," said Dr Moeti. "Other African countries can learn from these achievements." The Regional Director discussed a range of issues aimed at further strengthening the cooperation between WHO and the Government of Algeria.
The visit to Algeria was an opportunity to acquaint herself with the country's ongoing efforts to improve people's health. Dr Moeti held talks with the Algerian Foreign Minister, Abdelkader Messahel. There was a working session with Prof. Mokhtar Hasbellaoui, Minister of Health, Population and Hospital Reform and senior officials of the Ministry.
She also carried out a program of activities including visits to the Pasteur Institute of Algeria, the National Toxicology Centre and the National Laboratory for the Control of Pharmaceutical Products.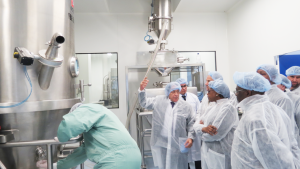 Dr Moeti visits a pharmaceutical plant in Algeirs, Algeria
Click image to enlarge
For Additional Information or to Request Interviews, Please contact:
Communications and marketing officer
Tel: + 242 06 614 24 01 (WhatsApp)
Email: boakyeagyemangc [at] who.int
HPR
Email : chiboutl [at] who.int