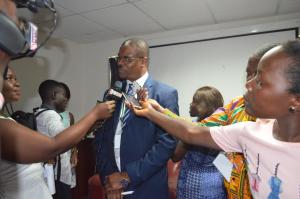 WHO reaffirms its support for initiatives and networks for harmonization and convergence of regulatory practices for Medicines in Africa
WHO has reaffirmed its support for initiatives and networks for harmonization and convergence of regulatory practices including establishment of the African Medicines Agency; as well as provide training through the WHO Global Learning Opportunities, WHO Collaborating Centres and Regional Centres of Regulatory Excellence. This was said by Dr Owen Kaluwa, WHO Country Representative for Ghana during the opening ceremony for the third biennial scientific conference on medical products regulation in Africa held in Accra Ghana from the 27-28 November, 2017, under the theme "Sustaining the Momentum for Regulatory Harmonization in Africa".
Dr Owen Kaluwa mentioned that the significance of the conference was underpinned by the fact that quality clinical care required access to quality-assured medical products including medicines, vaccines, blood and blood products, other biologics such as anti-snake venom, devices and diagnostics.
"They are indispensable for the efficiency of healthcare system designed to serve patients as its sole purpose. Striving to improve service delivery, emergency response, community outreach, infection prevention and control and also prevent antimicrobial resistance, we, health professionals, heavily rely on the timely availability of medical products" he said.
Dr Kaluwa also emphasized the pivotal role and contribution of medicines regulators and efficient regulatory systems in ensuring access to good-quality medicines and medical devices.
It is for this particular reason that the Sustainable Development Goal (SDG) 3.8 highlights access to safe, effective, quality and affordable essential medicines and vaccines for all. This is one of the core SDG targets on the par with the Universal Health Coverage. 'Leave no one behind!' - neither poor, nor elderly, neither child, nor mother, nor any human being, who needs medical attention, clinical intervention or health advice" he added.
Dr Kaluwa concluded by saying that this was the spirit and the quintessence of Universal Health Coverage, a visionary principle that paves the way for "good health and well-being for all, at any time and at any age".
Addressing the delegates the Honourable Minister of Health, Dr Kwaku Agyeman-Manu, indicated that the subject of medical products regulation harmonisation had been on the drawing board for quite some time and the initial assessments pointed out that it took as long as 4 years or more to get access to global health medicinal products in certain African countries.
"Absence of adequate technical capacity has been one of the reasons for this. Other factors have been resource constraints, different technical and administration requirements between countries and failure to leverage regulatory review activities already performed by trusted and better resourced regulatory authorities" he said.
Dr Agyeman-Manu mentioned that the idea of harmonisation was birthed out of a need to address obstacles to access of medicines to ensure quality and safety of medical products in the African region while preventing duplication of efforts by member states. He added that in the light of this, the African Medicine Regulatory Harmonisation (AMRH) initiative was set up with a vision to reduce the overall timelines for regulatory processes throughout the life cycle of a product without compromising product safety, efficacy, good performance and quality.
"The strategy that this initiative sought to adopt is to use the Economic Communities within the African continent to achieve the vision" he concluded.
Background
The overall goal of the third Biennial Scientific Conference on Medical Products Regulation in Africa is to review progress and deliberate on actions for sustaining the momentum for regulatory systems strengthening and harmonisation in Africa for addressing diseases that affect the continent. The conference provides a platform for stakeholders to reflect on the progress that has been made in regulatory systems in Africa over the past 10 years and map the trajectory moving forward. The theme of the conference: "Sustaining the Momentum for Regulatory Harmonization in Africa" will enable participants to contribute towards the future of regulation and harmonisation in Africa.
The conference also provides a platform for stakeholders to brainstorm on the role of ethical and regulatory approval of clinical trials in bridging the gap between research and development given the existing vacuum in advancing clinical trials that are relevant for diseases affecting African countries.