Juba, 14 February 2018 – Following the detection of a suspected Rift Valley fever outbreak in the Eastern Lakes State of South Sudan by the National Ministry of Health, World Health Organization supported the establishment of multi sectoral rapid response to investigate and prevent further spread of the disease. WHO established a temporary Incident Management System in Yirol East County to support the State authorities with coordination, surveillance, risk communication, case management and logistics.
During the four weeks period (17 January to 14 February 2018) of the mission the team set up an alert management system, trained 40 community health workers who conducted active case search in all the 10 Bomas of Yirol East County and visited over 6 000 households. A total of 40 alerts were investigated and 20 blood samples collected from the humans. The case management team trained 24 staff at the Yirol State Hospital and also conducted infection prevention and control (IPC) assessment and active case search in 10 health facilities. Community engagement and risk communication was enhanced through technical support to the partners on ground.
WHO also provided three vehicles and assorted medical supplies including cholera central reference kits, basic unit kits, ringers lactate, giving sets, gloves, blood collection tubes, and personal protection equipment (PPEs) to support rapid response teams (RRTs) and case management. Emergency funds were also availed to facilitate trainings of case management teams, case investigation teams, community health workers and facilitate active case search for the period of 28 days.
Dr Otim Ramadan, the WHO Response Team Lead, says 'preparedness is critical for any response, as such WHO is intensifying its support to the State Ministry of Health, and partners to strengthen capacity to detect and respond promptly to outbreaks of Rift Valley Fever. A Contingency plan for the state has been developed jointly with partners, and there is need to ensure funds are quickly mobilized once the plan is activated'.
The response was based on the WHO "No Regrets" Policy, as a result between 20 January and 14 February 2018 there has been a decline in the number of sick persons reported as RVF suspects. Out of the 20 samples collected, 12 have been tested and all were negative on Polymerase Chain Reaction (PCR) for RVF, and negative on serology for RVF IgM, only two had RVF IgG antibodies. The public health implication is that there is currently no evidence of active transmission of RVF among the humans. However, the risk of new transmission exists as there are still abortions and deaths reported among livestock, and the risky practices (unsafe handling of dead animals) are still rampant.
Thanks to our donors the South Sudan Humanitarian Fund (SSHF), European Union Humanitarian Aid (ECHO), United States Agency for Internationals Development (USAID) and the Government of Japan. WHO is able to continue supporting the state Ministry of Health and partners to actively monitor the trend and to closely work with the Ministry of Animal Resources to mitigate the risk of further spread', Dr Guracha Guyo, Emergency Coordinator for WHO South Sudan underscored.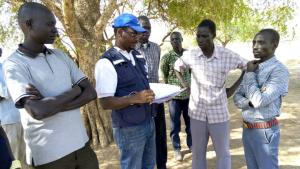 Click image to enlarge
For Additional Information or to Request Interviews, Please contact:
Email: guyoa [at] who.int
Dr Otim Patrick Ramadan
Tel : +211 956983130
Email: ramadano [at] who.int
Ms Luwaga Liliane Christine
Communications/Health Promotion Officer
WHO Health Emergencies(WHE)
Mobile: +211 (0) 921647860
Email: luwagal [at] who.int