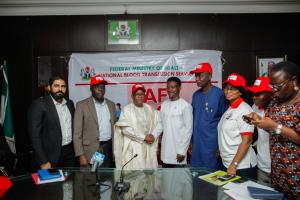 WHO and Federal partners call on all fit and well-meaning Nigerians to come forth to donate blood 
Abuja, 14 June 2019 – As the world observes World Blood Donor Day, WHO and federal partners have called on all fit and well-meaning Nigerians to come forth to donate blood.
World Blood Donor Day serves to thank voluntary, unpaid blood donors for their life-saving gifts of blood and also to raise awareness of the need for regular blood donations. In Nigeria at least 2 million units of blood donation will be critically needed in 2019. This edition of World Blood Donor Day is therefore marked with a series of events including blood drives and campaigns to encourage more voluntary donors. The theme is 'Blood donation and universal access to safe blood transfusion as a component of achieving universal health coverage' while the slogan is 'Safe blood for all.'
Speaking at a press briefing in Abuja for the launch of the World Blood Donor Day, Alhaji Abdullahi Mashi, Permanent Secretary of the Federal Ministry of Health highlighted that the statistics on the availability of blood in Nigeria can only improve if more people donate regularly to the National Blood Transfusion Service (NBTS) – the program responsible for public blood donations in Nigeria.
"The use of blood and blood products has become an integral part of modern medical practice. Access to safe blood and blood products is a key component of an effective health system, and a significant building block for the successful achievement of health-related Sustainable Development Goals."
Also present at the press briefing, Dr Oluwatoyin Smith, National Coordinator - NBTS, stated that "with the support of the World Health Organization data from 53 tertiary health institutions including Federal Teaching hospitals and federal medical centres back log of data from January 2018 till May 2019 have been collated and reported. From January to March 2019, a total of 44,722 units of safe blood has been made available for transfusion in these 53 tertiary health institutions".
Dr Oluwatoyin highlighted that at least 86.5% of the blood available at tertiary health facilities is used for transfusion purposes, while 13.5% is used for the supply of blood components. The NBTS currently operates from 17 centres across the six geo-political zones including 11 capital intensive screening centres that thoroughly screen donated blood for HIV 1 &2, Syphilis, Hepatitis B and Hepatitis C using advanced blood screening technology.
Dr Oluwatoyin further expressed appreciation to the World Health Organization for its support in capacity building, training of health facility workers and in conducting blood drives and outreaches and called on all fit and well-meaning Nigerians to come forth to donate blood - at least thrice a year for women and four times a year for men.
Thanking voluntary unpaid donors for their pivotal role in bridging Nigeria's blood supply gap, Dr Peter Clement, Officer in Charge Nigeria also pointed out that for a population of over 180 million people, the supply of blood is not enough.
"Transfusions of blood and blood products save millions of lives every year. Every few seconds, someone, somewhere, needs blood. We all need to do something about this. In addition to saving lives, there are many other benefits of blood donation to the donor. Blood donation can reduce the risk of certain heart diseases and cancers, it stimulates blood cell production and you even burn calories from donating blood. Let us all join hands and come forward to donate safe blood for all," he stated.
---