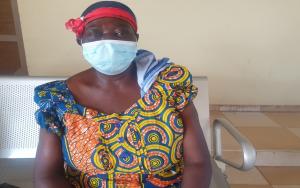 What it means to be more vulnerable to COVID-19: 69-year-old Adwoa Afrakoma shares her story
Diabetic, Hypertensive and suffering from Ulcers, 69 years old Adwoa Afrakoma, a resident of Kumasi in the Ashanti Region reflects on an emotional journey filled with anxiety and uncertainty, from the onset of the COVID-19 pandemic to receiving a second dose of the AstraZeneca/COVISHIELD vaccine. Auntie Adwoa's face beams with smiles and optimism as she sits for a few minutes under observation after taking her jab.
How did you receive the information that the aged and people with underlining conditions are more susceptible to COVID-19 infection?
I was shaken by the news that the world had been hit by a strange disease, but I became more alarmed when I learnt that people of my age and those suffering from health conditions like mine are even more at risk. I lived in constant fear and always woke up wishing not to step out of my room. I resorted to several traditional medicines and herbal concoctions our forefathers taught us to use for disease prevention. In fact, anytime I heard of any herbal medication that could boost my immune system, I tried it.
What did the discovery of a COVID-19 vaccine and Ghana subsequently receiving some doses mean to you?
When my daughter came home one day and said she heard in the news that a vaccine had been found. I could not believe it so I kept monitoring the radio and confirmed it to be true. I was so overjoyed even though I had no idea how someone like me was going to get access to it.
Before COVID-19, all I worried about was how to manage my three health conditions to be able to live longer, so to me, the discovery of a vaccine meant an end to the anxiety and the beginning of hope that my life will return to normalcy. I had been praying and believing God for a cure for this deadly disease. I kept being optimistic because scientists were able to make drugs to manage HIV/AIDS which also used deadly.
Did you have any hesitations about taking the vaccine?
Yes, I did. After the vaccines arrived in Ghana, a lot of misinformation went round in my community. People said the vaccine was not for COVID-19 but to kill us. Others said anyone who took it could be paralyzed or even become infertile. It was very discouraging so I also decided not to take the vaccine but my daughter encouraged me that even the President of Ghana had taken it.
Did you have any reactions after taking the first dose?
I felt sick throughout the night, I had body weakness and could not move any part of my body. This continued through the next day but I was better by the third day. I was not frightened because I had heard that such effects were to be expected.

How do you feel after receiving your second dose?
I am filled with emotions as I speak with you. It is a dream come true for me. I was not expecting to receive it because I thought they were going to sell it and I knew I could not buy but I was wrong. Learning how serious my case could be if I contracted the disease also made my life very uncomfortable, but now, I know I have protection and I can be sure that, even if I die, it will not be from this COVID-19 and that gives me a lot of peace.