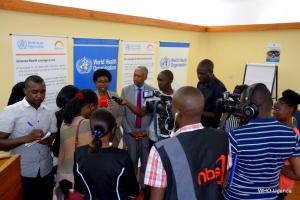 Uganda on the right path to achieving Universal Health Coverage
6 April 2018, Kampala:- Uganda is slowly but surely moving toward achieving Universal Health Coverage (UHC) which is the cornerstone for the attainment of Sustainable Development Goal 3 on the global development agenda. This was the consensus from participants at a high-level breakfast meeting hosted by the World Health Organization Country Office in commemoration of World Health Day 2018 which also marks the 70th birthday of the organization.
For instance, the country has a robust health sector development plan that seeks to, among others goals "accelerate movement towards Universal Health Coverage with Essential health and related services needed for promotion of a healthy and productive life". This is also encapsulated in the overall targets the country's Vision 2040.
In addition, the country has a health sector monitoring and supervision framework, and an elaborate and well spread health infrastructure at all levels of national and local government administration. The country also has an impressive tracking system for health supplies, it holds regular sector reviews and has strong partnerships extending even to the private sector.
"These are strong foundations for Universal Health Coverage," said Dr Prosper Tumusime, from the World Health Organization Regional Office for Africa who gave a key-note address at the breakfast under the theme: "Universal Health Coverage: Everyone, Everywhere".
Despite the strong foundation, the country still has a long way to go to achieve UHC as Dr Tumusime pointed out in reference to critical health indicators. Presently, about 72% of the Ugandan population live within 5 km of a health facility; only 13.4% of health facilities carry out scheduled maintenance of medical equipment; health workforce density is at 1.55 per 1000 population; health facilities reporting availability of over 95% of a basket of commodities are only 55%.
Other indicators show that only 37.5 of hospitals offer intensive care services; health facility deliveries stand at 58.1%; the mandatory four antenatal visits are at 37%; health center IVs offering blood transfusion services are 47.3%; and measles coverage is at 86.7%.
Therefore, as Dr Tumusime said that there is significant progress made in the sector but it is still below the target to meet Vision 2040. Sustaining progress and equity are also major concerns. Health financing is still inadequate and with significant out of pocket expenditure and physical access is fairly good but effective access remains a challenge. In addition, working across sectors for health and resource mobilization need more efforts in the coming years.
Yet despite the challenges, the Minister of Health, Dr Jane Ruth Aceng who was the guest of honor at the meeting is optimistic that Uganda can achieve UHC. "There is political commitment, strong partnerships, a vibrant private sector and communities that are determined to ensure they get what they want" she said. Dr Aceng singled out the Community Health Extension Workers strategy yet to be implemented but that has been well planned to contribute significantly to UHC. She reiterated the determination of the Government of Uganda and partners to prioritize health noting that "you cannot separate health from the economy and politics of the country."
Echoing the same message, the WHO Country Representative in Uganda, Dr Yonas T Woldemariam referred to investment in health as the most profitable investment for any country in which everybody has a role to play. He emphasized that for UHC to move forward there is need for political commitment, action by all sectors and prioritization of health as a human rights issue in measurable terms because "what is not reported or measured is not done".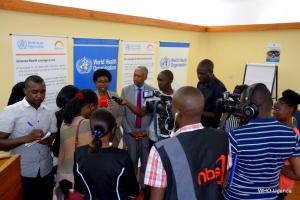 Click image to enlarge
For Additional Information or to Request Interviews, Please contact:
Health Promotion Advisor
Tel. : +256 414 335505
Cell: +256 772 507906
Email: sensasib [at] who.int
Public Information Officer
Tel. : +256 313 335569
Cell: +256 786 497073
Email: mwebembezie [at] who.int