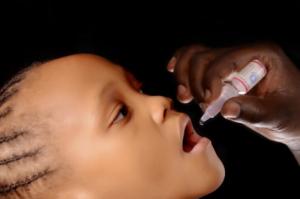 Two years without polio - Nigeria celebrates with cautious optimism.
Abuja, 23 July 2016 - Nigeria has been polio-free for two (2) years since the country's removal from the list of polio-endemic countries on 25 September 2015 by the World Health Organization (WHO). This is the longest period Nigeria has ever gone without a case of wild poliovirus (WPV) and the closest the country, has ever been to ending polio. This important milestone leaves the global community cautiously optimistic that ending polio in Nigeria, and the whole African region, is within reach.
As recently as 2012, Nigeria accounted for more than half of all polio cases worldwide. Since then, owing to a concerted effort by all levels of government, civil society and tens of thousands of dedicated health workers; Nigeria successfully stopped polio in its tracks.
More than 200,000 volunteers across the country repeatedly immunized more than 45 million children under the age of five years, to ensure that no child suffers from this paralyzing disease. Innovative approaches backed by strong government leadership, increased community involvement and establishment of Emergency Operations Centres at the national and state levels; were pivotal to Nigeria's success. 
The last confirmed polio case, Isah Ahmadu was reported from Sumaila local government area (LGA) of Kano State with a 24 July, 2014 date of onset of paralysis.
Face of last polio case
"When Isa contracted the disease, it was not easy managing him. He sometimes fell down when he walked because of the flaccidity of his leg and arm", Binta Kanduwa the mother of the last confirmed polio case revealed.
By July 2016, the story of Isa changed the fortunes of the family. The parents who were separated are now  re-united after months of separation. This development was believed to be as a result of frequent visitations by health professionals to the family on Isa's case.
Dr Sani Umar, the WHO cluster coordinator for Sumaila LGA that led a team to visit the family on 21 July, 2016 mentioned that "the boy (Isah Ahmadu) walks without limping. He attends Ulumuddin Islamiyya School located in the neighborhood. There is residual paralysis at the right upper limb but the two lower limbs were physically examined and found to be without any residual paralysis".
The task ahead
Improving the scope of surveillance and immunization activities is vital if Nigeria is to be kept polio-free. At least one more year must pass without a case of wild poliovirus in order for Nigeria and consequently the WHO African region to be certified polio-free.                                                                                               
In June 2016 the 32nd meeting of the Expert Review Committee (ERC) on Polio Eradication and Routine Immunization in Nigeria made the recommendation following a 2-day deliberation in Abuja conducted on 21-22 June, 2016 to focus on the progress made, current challenges and priorities for the next six (6) months.
Overall, the ERC acknowledged the continued good quality of supplemental immunization activities indicated by the Lot Quality Assurance Survey (LQAS) and Independent Monitoring data showing reduction in proportion of missed children.
"The ERC acknowledges tremendous achievement made by the programme in reaching close to two (2) years since Nigeria interrupted transmission of wild poliovirus (WPV) and 22 months since the last WPV on the African continent" In Dr Michel Zaffran, the WHO Director of Polio Eradication, who presented the preliminary feedback mentioned.
The experts therefore recommended on investing in strengthening routine immunization as the overarching priority of the government and partners in order to sustain the gains of the polio eradication programme and protect children against other vaccine-preventable diseases that no child is left vulnerable and without adequate immunization.
Sustaining political commitment towards certification
Following a recent meeting with the WHO Regional Director for Africa, Dr Matshidiso Moeti; President Muhammadu Buhari directed the Federal Ministries of Health, and Information and Culture to reinvigorate their strategies in concert with state governments in order to galvanize lasting support needed to sustain Nigeria's polio-free status and ensure that Nigeria is finally certified polio free by 2017.
''We have not recorded any case of polio in the last two years but we should not be complacent", President Buhari stated.
The celebration of two years without a case of wild polio in Nigeria will continue to constitute a call to action to maintain momentum and ensure a polio-free Nigeria. This is imperative, with the entire African region drawing closer to possibly being certified polio-free in 2017. Ending polio in Nigeria will be a victory for the country and for children everywhere.
________________________________________________
For more information, please contact:
Technical contacts:
Dr Fiona Braka; Tel: +234 703 170 5252; Email:  brakaf [at] who.int
Dr Richard Banda; Tel: +234 803 535 4875; Email:  bandari [at] who.int
Media contact:
Ms  Charity Warigon; Tel: +234 810 221 0093; Email:  warigonc [at] who.int
Below:
01 Last child with confirmed WPV and his parents in Sumaila, Kano State
02 Surveillance  taining on active case search for acute flaccid paralysis in Kaduna